Alliott Global Alliance expands into Hong Kong's legal market with the appointment of H.Y. Leung & Co LLP
19 October 2020
Hong Kong's legal marketplace now has another independent firm with all the necessary resources to serve international clients – local law firm H.Y. Leung & Co LLP 'H.Y. Leung & Co') has joined Alliott Global Alliance (previously 'Alliott Global Alliance'), a global multidisciplinary alliance with a presence in 225 cities in 80 countries worldwide. H.Y. Leung & Co is now the sole law firm representative for the alliance in Hong Kong.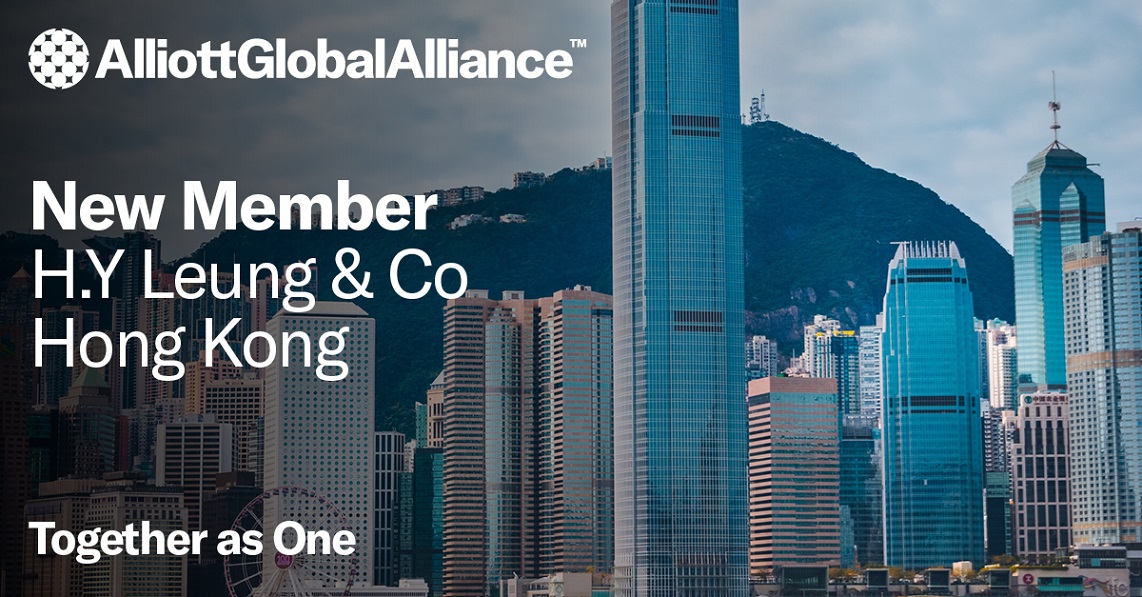 H.Y Leung & Co was founded in 2014 by Managing Partner Alexander H.Y. Leung who is a qualified legal practitioner in Australia and Hong Kong. Mr. Leung also qualified as a CPA in Australia. With a head count of around 80 members of staff, including 24 fee earners, the firm has expanded rapidly since its incorporation and was recognized as one of Hong Kong's most outstanding businesses in the 2019 HKMOB (Hong Kong's Most Outstanding Business) Awards. Recipients of these awards receive recognition from multiple industry leaders and peers for their efforts and achievements.
The appointment of one of Hong Kong's leading independent law firms provides another foothold for the alliance in the Greater China region. In the last six months, law firms have joined the alliance in the wider Asia Pacific region in Bangladesh, Singapore, and Thailand.
HY Leung & Co offers a wide spectrum of legal services to individuals and corporate clients alike including civil litigation and dispute resolution, commercial and corporate, property and conveyancing, intellectual property, probate and trusts, matrimonial and family, criminal defense, notary, regulatory and disciplinary matters. Business is conducted in Cantonese, Mandarin and English languages.
Alexander Leung comments:
"It is an honor to join Alliott Global Alliance during a time of extensive growth and exciting developments, including the launch of their recent rebrand.
"Part of our strategy over the next 2 years is to expand our services into other regional jurisdictions, including further into China so we can broaden our existing local clientele. To be supported by a global and professional brand with an international profile will help us to achieve this recognition. We look forward to working with fellow members in Hong Kong and the APAC region on further development and business opportunities and to providing legal assistance to those members worldwide who have clients with business interests in Hong Kong."
Alliott Global Alliance COO Giles Brake comments:
"In such an important global financial centre, it was important to select and appoint a local Hong Kong law firm with a breadth and depth of business law services and experience in handling clients throughout the region. H.Y. Leung & Co's technical excellence and progressive approach to client service impressed us immediately. With the vision and drive of Managing Partner Alexander Leung and the resources provided by our international alliance, H.Y. Leung & Co. is a firm to watch. We extend a warm welcome to our new friends and colleagues at this outstanding law firm."
Alliott Global Alliance is growing continuously and differentiates itself in the alliances market through its ability to bring together law, accounting, and specialist services firms under the one roof for the benefit of clients with complex, interrelated needs. The alliance now has member firms in the following Asia Pacific countries: China, Hong Kong, Bangladesh, Singapore, Indonesia, Malaysia, India, Australia, New Zealand, Japan, South Korea, Nepal, Pakistan, Thailand, and Taiwan.
About H.Y. Leung & Co LLP:
"FOUNDED ON RESEARCH |DARE TO INNOVATE"
We are guided in our work by the above Motto. Founded by Mr. Alexander H.Y. Leung in 2014, the firm has rapidly grown and sophistication, more than ever ready to provide our distinguished local and international clients with quality services.
We offer a wide spectrum of professional, best in class legal services to individuals and corporate clients alike in the areas of:
Civil Litigation & Dispute Resolution, Commercial & Corporate Matters, Corporate Finance, Property & Conveyancing, Intellectual Property, Probate & Trusts, Matrimonial & Family Law, China Practice, Criminal Defence, Initial Public Offerings, Securities, Regulatory & Disciplinary Matters corporate services, and Attestation by China-Appointed Attesting Officer as well as Notary Public.
The main reason that sets H.Y. Leung & Co. LLP apart from the rest of the law firms is that we place client satisfaction at the very top of our business philosophy. To achieve this, we recruit only the most experienced and dedicated legal professionals, who listen to the clients, and then respond swiftly with tailor-made solutions.
About Alliott Global Alliance
Founded in 1979, and with 185 member firms in 80 countries Alliott Global Alliance is an award-winning alliance of independent, law, accounting, and specialist advisory firms, working across the world Together as One. Each of our members share a common goal: to learn and share knowledge, resources, and opportunities to make the world smaller and their businesses stronger.
We work with a spirit of generosity and openness — so that together, we can continue to fulfil our ambitions, gain greater experience, and drive mutual success.
Alliott Global Alliance is expanding fast, and the alliance has its sights set firmly on growing its legal and accounting membership to 100 countries. Opportunities are available to independent professional firms in specific countries in Africa, but also in Europe, China, the ASEAN region, Australasia, the Gulf Cooperation Council region, Central and South America and in North America. For information about membership in the Asia Pacific, contact Damien McMenamin (damien@alliottglobal.com), Head of Global Business Development.