Alliott Global Alliance expands in Australia through appointment of i2 Advisory
27 March 2023
Alliott Global Alliance ('AGA'), one of the largest and fastest-growing global multidisciplinary alliances with 215 member firms in 95 countries, has expanded its Australasian alliance by signing an agreement with Adelaide based i2 Advisory Chartered Accountants ('i2 Advisory').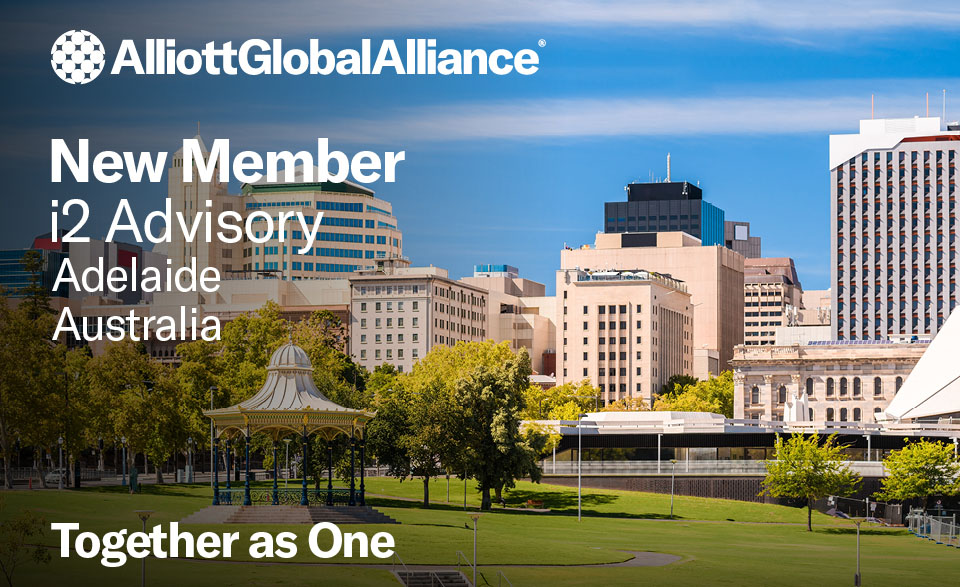 Founded in 2012 and based in South Australia's capital city, Adelaide, i2 Advisory is a seven-partner firm that offers accounting, tax compliance, business, and tax advisory, superannuation financial planning (i2 Wealth) and bookkeeping services.
The firm's experienced partners are all ex-Deloitte and are supported by a team of professionals with backgrounds in property syndicate advising, business investment and long-term partnerships. Key sectors they provide services to include manufacturing, agribusiness, retail, health, high net worth individuals, hospitality & tourism, property, and private investors.
After achieving an impressive 13% growth over the last two years, the firm is looking to continue to expand its business consulting, property, and manufacturing services in the immediate future. Business is conducted at the firm in the Italian, Cantonese, Mandarin, Urdu, Hindi, Marathi, and English languages.
Partner David Inglis comments:
"By joining Alliott Global Alliance, we see an opportunity to allow us to maximise upon and build new trusted relationships with members in the region and globally, share best practices, expand on current client opportunities, and find support for our growing list of clients' multijurisdictional needs that stretch beyond Australian borders.

"For AGA and its members, we can add tangible value in this important and major global economy, and we are delighted to be AGA's accounting and tax representative in South Australia."
Alliott Global Alliance's CEO, Giles Brake adds:
"Australia is the gateway to many international markets and is highly attractive to corporate and high net worth investors. Our growth strategy in the region is to appoint leading local accounting and law firms to represent us in the key business hubs. We are therefore delighted to welcome one of Adelaide's fastest-growing firms, i2 Advisory. They join a growing group of well established, independent firms in the region that need to service their clients beyond their state and national borders. A very warm welcome to the i2 Advisory team."
Through affiliation with AGA, local independent law and accounting firms can offer clients global reach and access to an extensive range of professional services that enable them to compete head-on with the larger international firms in their jurisdictions. Across the Asia Pacific region, AGA has member firms in China, Hong Kong, Bangladesh, Singapore, Indonesia, Malaysia, India, Australia, Papua New Guinea, New Zealand, Japan, South Korea, Nepal, Pakistan, Thailand, Taiwan, the Philippines, and Vietnam.
About i2 Advisory Chartered Accountants:
As Alliott Global Alliance's accounting and tax member firm in Adelaide, the team at i2 Advisory is dedicated to working closely with individuals and business owners locally and internationally to improve productivity, cash flow and importantly the life of those involved and has delivered impressive results since commencing practice in 2012.
With no issue too big or too small, i2 Advisory offers an extensive range of tax and business advisory services with a focus on providing clients with optimum results to develop wealth and continue to build success. Open, regular communications ensure there are no surprises, assuring clients peace of mind.
Seven experienced directors and a team of over twenty diversely trained and enthusiastic professional staff are the key to i2 Advisory's success and their expanding client base, with the firm's proud differentiator being their hands on approach and ability to assist organisations with key steps involved with the implementation and strategic management of operating their businesses.
About Alliott Global Alliance:
Founded in 1979, and with 215 member firms in 95 countries Alliott Global Alliance is an international alliance of independent, law, accounting, and specialist advisory firms, working across the world Together as One.
Each of our members share a common goal: to learn and share knowledge, resources, and opportunities to make the world smaller and their businesses stronger.
We work with a spirit of generosity and openness — so that together, we can continue to fulfil our ambitions, gain greater experience, and drive mutual success.
Alliott Global Alliance is expanding fast, and the alliance has its sights set firmly on growing its legal and accounting membership to 100 countries. Opportunities are available to independent professional firms in specific countries in Africa, but also in Europe, China, the ASEAN region, Australasia, the Gulf Cooperation Council region, Central and South America and in North America. For information about membership email membership@alliottglobal.com