Alliott Global Alliance continues legal expansion in Asia
19 November 2020
Alliott Global Alliance (formerly 'Alliott Group'), the international alliance of law and accounting firms, has increased its presence to 15 countries in the Asia Pacific region following the appointment of law members in Bangladesh, Hong Kong and Thailand in the last few months.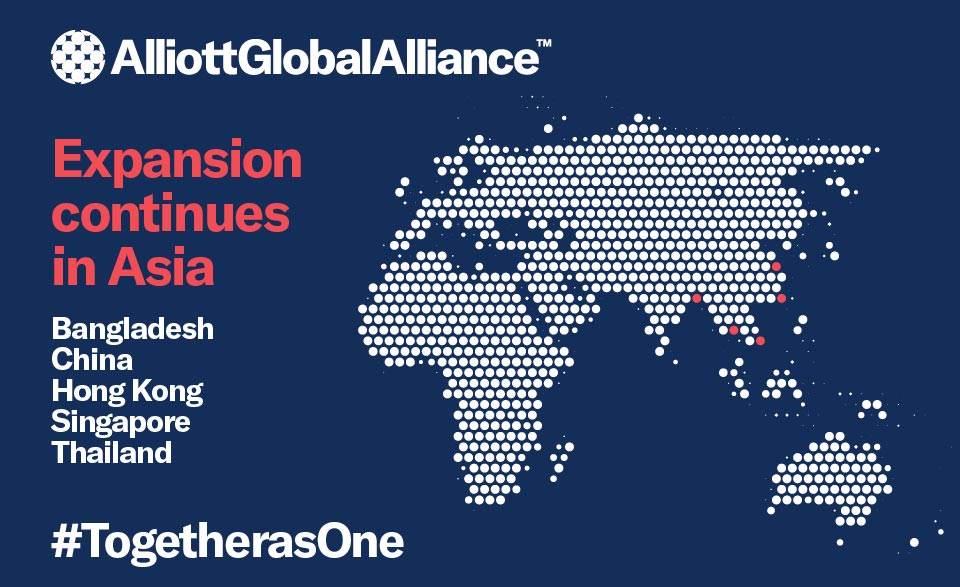 The London headquartered alliance, set up in 1979, has implemented a global growth strategy that has expanded membership by 52 firms and increased international coverage from 57 to 80 countries in the last two years. The alliance's objective is be in 100 countries by 2025 to bring truly global scale and cross border opportunities to member firms and their clients.
In Hong Kong, H.Y Leung & Co has been admitted to the alliance. Founded in 2014, the firm has 80 staff, including 24 fee earners. The firm has expanded rapidly to provide a wide spectrum of legal services to individuals and corporate clients including civil litigation and dispute resolution, commercial and corporate, property and conveyancing, intellectual property, probate and trusts, matrimonial and family, criminal defense, notary, regulatory and disciplinary matters. The firm was recognized as one of Hong Kong's most outstanding businesses in the 2019 HKMOB (Hong Kong's Most Outstanding Business) Awards.
In Thailand, GPS Legal has been appointed as the alliance's representative member. Founded in 2014 and headed up by Managing Partner Lawrence Chaney, GPS Legal is a full-service law firm in Thailand providing legal services to resident and overseas individuals, local and regional SMEs, and global multinationals. The firm's services include corporate, litigation and dispute resolution, intellectual property, real estate and family law. The firm's clients are mainly in the fintech, banking, IT, manufacturing, hospitality, retail and real estate sectors.
Giles Brake, COO, comments:
"2020 has been a significant year of growth in Asia. Earlier in the year, we appointed Chance Bridge Partners in Beijing and then signed agreements with Jeeva Partnership in Kuala Lumpur and Advocatus in Singapore. Our growth trajectory continues despite the pandemic. These are exciting times for our members in Asia and worldwide."
About Alliott Global Alliance:
Founded in 1979, and with 185 member firms in 80 countries Alliott Global Alliance is an international alliance of independent, law, accounting, and specialist advisory firms, working across the world Together as One. Each of our members share a common goal: to learn and share knowledge, resources, and opportunities to make the world smaller and their businesses stronger.
We work with a spirit of generosity and openness — so that together, we can continue to fulfil our ambitions, gain greater experience, and drive mutual success.
Alliott Global Alliance is expanding fast, and the alliance has its sights set firmly on growing its legal and accounting membership to 100 countries. Opportunities are available to independent professional firms in specific countries in Africa, but also in Europe, China, the ASEAN region, Australasia, the Gulf Cooperation Council region, Central and South America and in North America. For information about membership in Asia, contact Damien McMenamin (damien@alliottglobal.com), Head of Global Business Development.