AGA law firms collaborate on multi-million EUR cross border M&A transaction
14 July 2021
Law firms from Alliott Global Alliance (AGA) recently worked together as part of an international team of transaction experts to provide legal advice to UK based Web Shield, the leading RegTech company.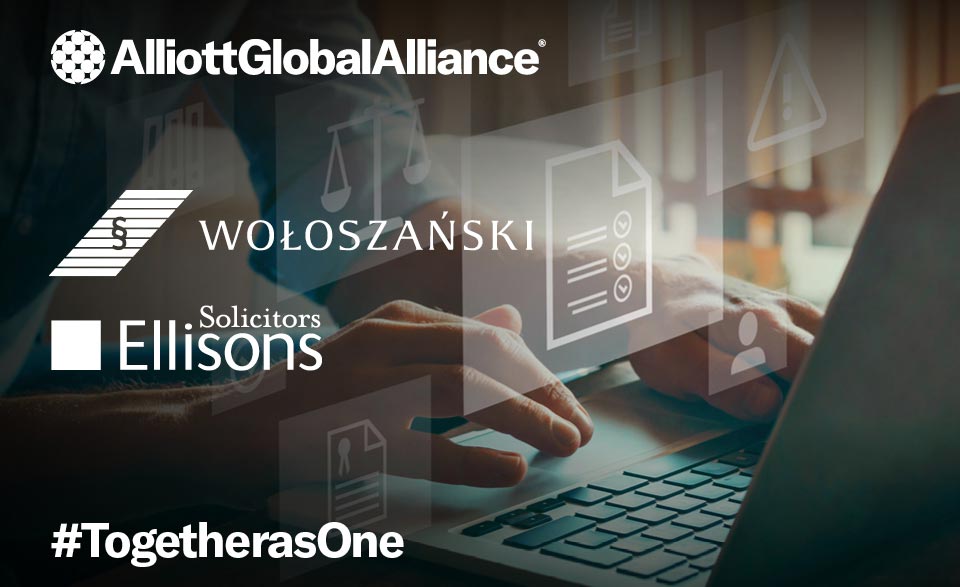 Law firms from Alliott Global Alliance (AGA), one of the world's largest international alliances of law and accounting firms, recently worked together as part of an international team of transaction experts to provide legal advice to UK based Web Shield, the leading RegTech company, in relation to the sale of its shares in the Web Shield Group to ZignSec AB, based in Sweden.
The project, led and coordinated by Managing Partner Michał Wołoszański at AGA law firm member Wołoszański & Partners in Poland, focused on managing several teams in the UK, Germany, Poland, and Sweden.
Ellisons Solicitors, one of the alliance's law firm members in England, took responsibility for legal assistance in the UK and undertook a due diligence review of Web Shield Ltd.
ZignSec AB will acquire 100% of the shares of Web Shield Ltd, including the subsidiaries Web Shield Services GmbH, Web Shield Services Polska sp. z o.o and 50% of Web Shield Legal Library sp. z o.o. for EUR 28 million. The acquisition agreement was signed on June 6, 2021.
Michał Wołoszański commented:
"It was a challenging project. The transaction included a complex due diligence review in three different jurisdictions during which all companies remained fully operational, with business continuity ensured in terms of technology, operations, finance, and ownership.

"This accomplishment was possible due to our diligent process coordination, but also thanks to the highly professional contributions of all of the engaged law firms, including our fellow Alliott Global Alliance member firm Ellisons Solicitors."
AGA CEO Giles Brake said:
"This is yet another example of AGA member firms working together across jurisdictions to solve complex M&A related challenges for their clients. Clear communications, technical excellence and responsiveness are key to clients involved in this type of international transaction, so I am delighted to hear that the team delivered from every angle."
CEO of Web Shield, Alex Noton added:
"Michał Wołoszański and his team's assistance in connection with the sales transaction was highly valued, and the project ran very smoothly. They took care of every single aspect of the transaction while keeping us fully operational. I would wholly recommend them to others who need M&A deal assistance."
The closing of the transaction is subject to customary conditions, including foreign investment approval, and it is expected to take place during Q3 of 2021.
About Wołoszański & Partners Law Firm:
Wołoszański & Partners Law Firm specializes in rendering legal advisory services for entrepreneurs, with a focus mainly on commercial law, civil law, and company law.
With years of experience in providing legal services to our clients we have learned about events involving legal consequences. We have also learned whether solutions stand the test of time. That is why our clients choose our services at every stage of development of their business - from companies' agreements, through to the construction of capital groups or analysing long-term, significant contracts.
Our approach is deeply tied to clients' business objectives and value creation. We provide immediate support to the client for the selected workstream, while concurrently working on creation of seamless legal collaboration.
About Ellisons Solicitors:
Ellisons Solicitors is a top 200 UK law firm, and one of the region's oldest, most established and fastest growing firms. With a team of 250 colleagues, the firm has six offices located across Essex and Suffolk in the South East of England.
Ellisons offers a comprehensive range of services to both corporate and private clients, including: Commercial Property, Immigration, Residential Property, Dispute Resolution, Wills, Trust and Probate, Insurance Litigation, Employment and HR, Corporate and Commercial, Financial Advice and International Services. 
Although rooted locally, Ellisons has a growing international presence aided by membership of the Alliott Global Alliance. Our offering to clients and contacts is broadened by this membership and by the establishment of Ellisons Financial Planning, enabling us to refer clients to a trusted network of professionals providing an integrated service across the world. Read more on our website.