Accounting firm Login Finans joins Alliott Global Alliance in Norway
03 May 2023
Alliott Global Alliance ('AGA'), can now provide accounting and tax services in Norway through independent, Top 25 firm Login Finans AS (Login Finans), headquartered in Trondheim.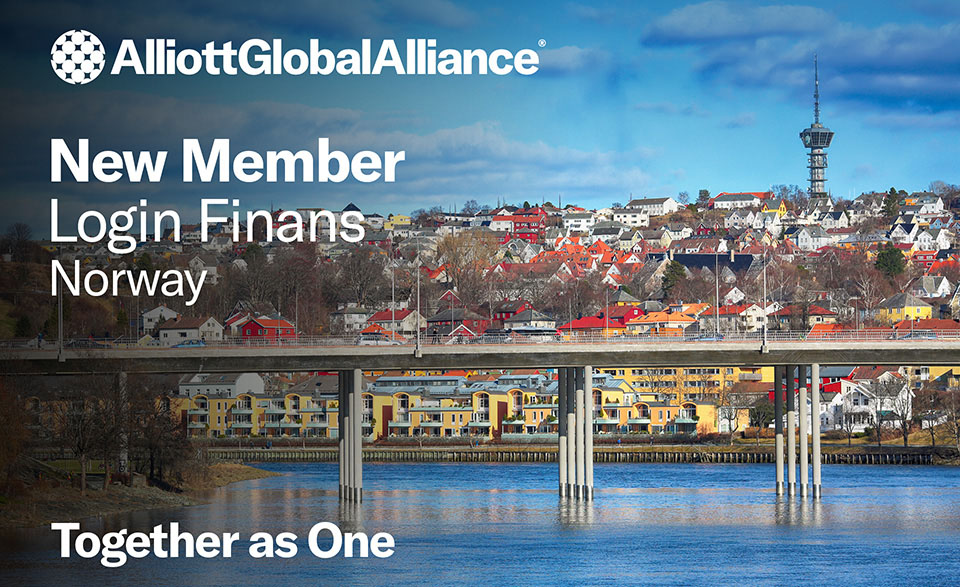 Founded in 2020, the firm has grown rapidly and has since expanded its operations further across Norway into Oslo, Steinkjer and Fredrikstad. Headed up by six partners, the team offers accounting tax and consulting work to clients working mainly across the real estate, consulting, holding companies, nutrition and transport and logistics industries.
Business is conducted at the firm in the Norwegian, English, Persian, Kurdish, and Arabic languages.
The affiliation of Login Finans gives AGA dual membership in Norway with legal services being provided by recent addition Pretor Advokat AS (Pretor Advokat).
Login Finans' Managing Partner, Roar Reitan, comments:
"We are delighted to have been appointed as AGA's accounting and tax representative in Norway. This partnership raises our international profile straight away and by accessing the expertise and resources of our new colleagues regionally in Scandinavia and around the world we can now also support those clients looking to expand their business operations outside of Nordic jurisdictions.

"We are looking forward to attending AGA regional in-person events in the coming months so we can meet and share knowledge with our peers and introduce our younger colleagues to AGA so they can start to understand the relationship and the benefits and opportunities that membership of a global alliance can bring."
Alliott Global Alliance's CEO, Giles Brake adds:
"In the last few years, AGA has established a comprehensive foothold across the Nordic region, ensuring the provision of accounting, tax, audit, and legal solutions to clients doing business in Denmark, Sweden, Finland, and Norway. We are therefore delighted to build further on this success by appointing leading Norwegian accounting firm Login Finans to our global alliance. This dynamic, fast-growing firm will benefit almost immediately from being able to promote their ability to serve clients through 300 offices in close to 100 countries worldwide. We are delighted to gain such a valued partner in this important European country, and we extend a very warm welcome to Roar, Heidi and the entire team."
AGA has plans to expand its coverage further into the Nordic and Baltic regions and is currently seeking interest from dynamic, growth-minded professional firms in Latvia, Iceland, Estonia, and Lithuania.
About Login Finans:
Login Finans is the representative accounting and tax firm member of Alliott Global Alliance in Norway. Headed up by an impressive team with strong interdisciplinary expertise, including financial management, tax advice, consulting, start up and property, Login Finans will find the best solution for all your local and international business requirements.
About Alliott Global Alliance:
Founded in 1979, and with 220 member firms operating out of 300 offices in 95 countries Alliott Global Alliance is an international alliance of independent, law, accounting, and specialist advisory firms, working across the world Together as One.
Each of our members share a common goal: to learn and share knowledge, resources, and opportunities to make the world smaller and their businesses stronger.
We work with a spirit of generosity and openness — so that together, we can continue to fulfil our ambitions, gain greater experience, and drive mutual success.
Alliott Global Alliance is expanding fast, and the alliance has its sights set firmly on growing its legal and accounting membership to 100 countries. Opportunities are available to independent professional firms in specific countries in Africa, Europe, China, the ASEAN region, Australasia, the Gulf Cooperation Council region, Central and South America and in North America. For information about membership in Europe, email membership@alliottglobal.com.