The Challenges of Ethics in Accountancy
29 November 2022
Here Balasubramaniam Janamanchi, Managing Partner at AGA accounting member JBS Practice Public Accounting Corporation and a Council Member of the ISCA (Institute of Singapore Chartered Accountants), shares the challenges of upholding ethics in the accountancy profession in an interview featured in the ISCA Journal.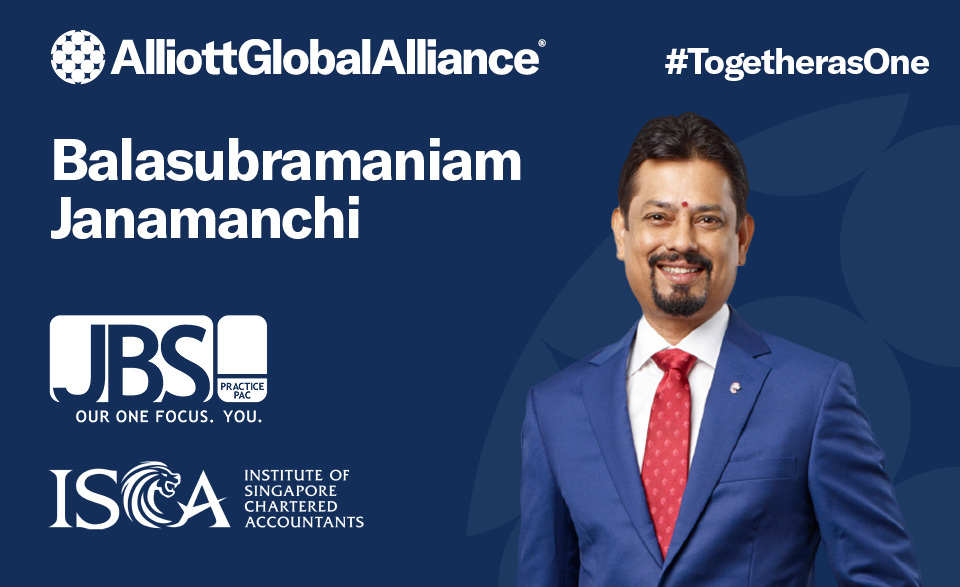 "Global Ethics Day, which was observed on October 19 this year, is an annual movement started by the Carnegie Council to empower ethics through the actions of individuals and organisations.
Accountancy is one profession that is respected for its adherence to truth and integrity. To this end, a Chartered Accountant in Singapore has to abide by the financial reporting standards and the Companies Act. Additionally, ISCA members must adhere to the Institute's Code of Professional Conduct and Ethics. Ethics Pronouncement (EP) 100 states, "Every member shall conduct him or herself in a manner consistent with the good reputation of the accountancy profession and refrain from any act or default, which is likely to bring discredit to the profession or to him/her."
EP 100 and EP 200 (enhanced mandatory requirements on implementing controls and procedures for anti-money laundering and countering the financing of terrorism) serve to guide accountants in their decision making. However, upholding the rules and regulations are often challenging in actual practice due to a variety of reasons; these include cultural differences to a different understanding of what constitutes "common practice". Sometimes, clients may have expectations that challenge the rules and regulations." - Source - ISCA Journal, October 2022.
In a recent interview, published in the October edition of the ISCA Journal, Balasubramaniam Janamanchi, Managing Partner at Alliott Global Alliance's accounting member firm JBS Practice PAC in Singapore shares his experiences of how to avoid getting into ethically questionable situations.
About JBS Practice Public Accounting Corporation:
As AGA's accounting member firm in Singapore, JBS PRACTICE PUBLIC ACCOUNTING CORPORATION ("JBS Practice") is a progressive boutique firm offering audit and assurance services to a diverse range of clients, from large privately held corporations, subsidiaries of listed companies to private businesses, entrepreneurs and individuals across a wide range of industries. Clients operating out of Singapore are mainly from Europe, U.S. and India.
At JBS Practice, the goal is to look beyond numbers and compliance issues, and to provide clients with practical advice to resolve problems and help them achieve their business goals.
About Alliott Global Alliance:
Founded in 1979, and with 215 member firms in 95 countries Alliott Global Alliance is an international alliance of independent, law, accounting, and specialist advisory firms, working across the world Together as One.
Each of our members share a common goal: to learn and share knowledge, resources, and opportunities to make the world smaller and their businesses stronger.
We work with a spirit of generosity and openness — so that together, we can continue to fulfil our ambitions, gain greater experience, and drive mutual success.
Alliott Global Alliance is expanding fast, and the alliance has its sights set firmly on growing its legal and accounting membership to 100 countries. Opportunities are available to independent professional firms in specific countries in Africa, but also in Europe, China, the ASEAN region, Australasia, the Gulf Cooperation Council region, Central and South America and in North America. For information about membership please email membership@alliottglobal.com.