Perpetual students making waves globally
30 October 2023
Despite having one of Africa's smaller populations, Botswana has long had one of the continent's best-performing economies. Odirile Itumeleng and Tshepo Dipatane from AGA's OTTO ITUMELENG Law Chambers spoke to Africa Legal about harnessing an international outlook.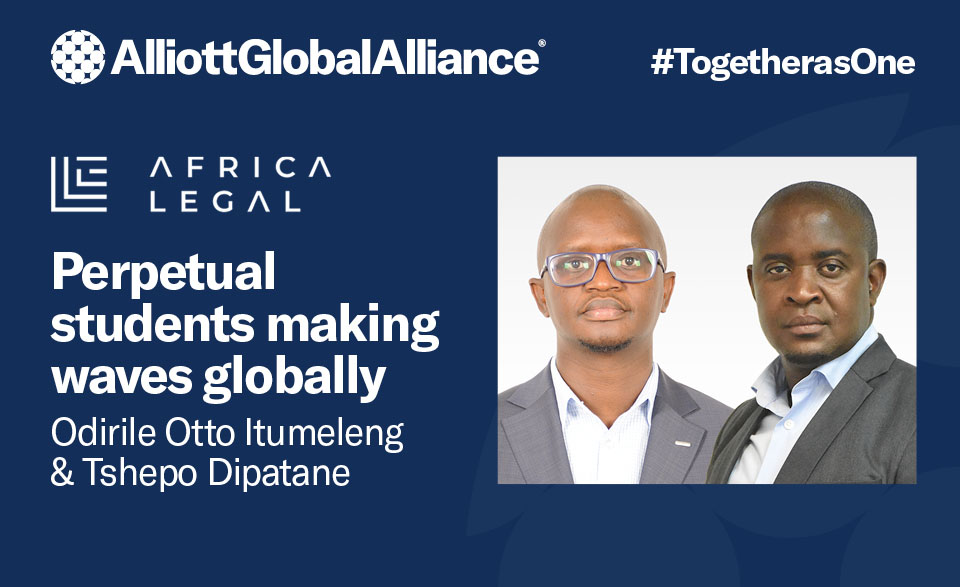 A desire to build on their international business and investment law expertise by learning from peers around the world was one reason why leading Botswana law firm OTTO ITUMELENG Law Chambers joined Alliott Global Alliance (AGA), explains Odirile Otto Itumeleng and Tshepo Dipatane.
"In our cross-border practice we are dealing with issues in different jurisdictions and areas of law, and different cultures, in terms of everything we do," said Itumeleng, Managing Partner at the firm. "It is very important to learn from your colleagues all over the world. We don't want to limit our legal knowledge and understanding on the basis of what we know in south and central Africa. We need to know what others are doing."
Itumeleng and Dipatane see growth in energy, transport, mining, agriculture and construction work in Botswana; all industries that can have a cross-border or multinational component, including the corollary of dispute resolution. It's vital, they say, to understand how such businesses are conducted elsewhere, and how legal and practical matters can best be handled.
Dipatane, associate partner at Otto Itumeleng Law Chambers, says that since joining AGA, an elite coalition of 220 law firms in 95 countries, including across Africa, many clients are coming to them directly when they have business to do outside Botswana.
Dipatane says the firm has been helping clients in mining transportation – a booming area – and the energy sector deal with different regulatory environments in cross-border projects. They've also leveraged their alliance to assist a construction client in the mining industry.
Earlier this year, AGA CEO Giles Brake said the international alliance was delighted to welcome Otto Itumeleng Law Chambers, a high-calibre firm in one of Africa's emerging hotspots that has plans to open new offices in Maun and Ghanzi, and expand their service offering.
Itumeleng says that with legislative reforms aimed at facilitating trade, business and investment, the market in Botswana has grown quite significantly and in the right direction, based on international practices. He and Dipatane are excited for the future in Botswana and with AGA.
"We are perpetual students, and want to have lots of exchange of legal ideas and other useful information, to benefit our clients and this area of business."
Copyright : Re-publication of this article is authorised only in the following circumstances; the writer, Craig Sisterson and Africa Legal are both recognised as the author and the website address www.africa-legal.com and original article are back linked. A bio for the writer can be provided on request.
Further reading:
The benefits of good neighbours
Gearing up for the renewable energy push
About OTTO ITUMELENG Law Chambers:
As AGA's sole law firm representative in Botswana, the team at OTTO IMUMELENG Law Chambers (OTTO IMUMELENG) pride themselves on offering a professional and person service in an approachable and friendly environment. Possessing traditional values, and with services available at competitive rates, all at the firm understand complex transactions and are ideally placed to aid any business or individual with their local and international requirements.
About Alliott Global Alliance:
Founded in 1979, and with 220 member firms operating from 300 offices in 95 countries Alliott Global Alliance is an international alliance of independent, law, accounting, and specialist advisory firms, working across the world Together as One.
Each of our members share a common goal: to learn and share knowledge, resources, and opportunities to make the world smaller and their businesses stronger. We work with a spirit of generosity and openness — so that together, we can continue to fulfil our ambitions, gain greater experience, and drive mutual success.
Alliott Global Alliance is expanding fast, and the alliance has its sights set firmly on growing its legal and accounting membership to 100 countries. Opportunities are available to independent professional firms in specific countries in Africa, but also in Europe, China, the ASEAN region, Australasia, the Gulf Cooperation Council region, Central and South America and in North America. For information about membership in Africa email membership@alliottglobal.com