Strategic IT partnership with Cetrom brings additional resources to North America membership
24 November 2020
Alliott Global Alliance has expanded the range of firm management services available to members in North America by forming a strategic partnership with Cetrom, a leading cloud hosting solutions provider to accounting firms.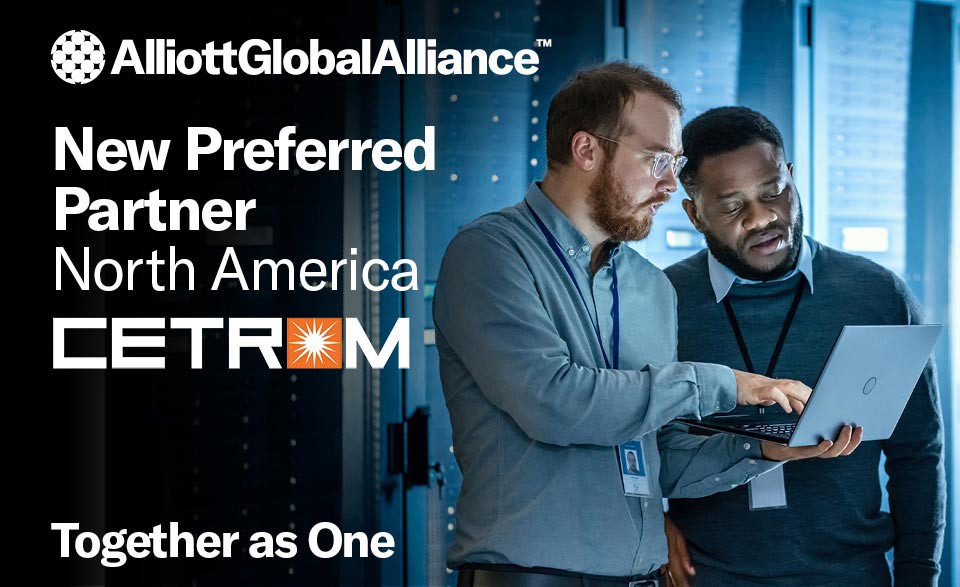 This latest partnership is a key part of the alliance's strategy to collaborate with best of breed solution providers to the professional services sector in areas related to firm management. Cetrom will work closely with the alliance's Executive Office team to implement a program of resources and thought leadership for its growing tech and IT community.
Cetrom has been hand delivering award-winning cloud hosting solutions for CPA firms since 2001. Developed specifically with CPA firms' unique needs in mind, each custom IT solution is backed by US-based senior-level engineers who provide 5-star rated customer service and support around-the-clock. Additionally, Cetrom's team of engineers pride themselves on their extensive expertise in hosting and maintaining all its clients' unique accounting applications. Cetrom's industry leading IT security solutions are backed by innovative AI security technologies and a triple layer data back up and retention solution for maximum redundancy. Notably, Cetrom has been ranked the Top Hosting Provider for CPA Firms by K2 Enterprises for the 6th consecutive year based on its hosting services and 5-star customer support and rated 5 stars by CPA Practice Advisor.
Christopher Stark, President & CEO at Cetrom comments:
"Cetrom is honored to serve as a strategic IT partner for Alliott Global Alliance (AGA) member firms.

"As this year has been a unique and challenging year for many AGA member firms, we understand how essential IT is in order to serve clients. That is why we make it our priority to continue to educate, advise and deliver proactive, reliable, and secure IT solutions for the accounting industry. We look forward to serving as a valuable IT resource for the AGA member firm community."
Giles Brake, COO, Alliott Global Alliance adds:
"Partnering with Cetrom enables our member firms in North America to access new resources and the latest thinking on how to use IT innovation to optimize client service and manage the firm with maximum efficiency. We are excited by the potential of this partnership which comes at a particularly challenging time for those working in IT and look forward to working with Christopher and the Cetrom team."
The partnership will be launched at a co-hosted event titled 'Securing your remote workforce & planning your IT roadmap' on December 1.
About Cetrom:
Cetrom is the Top Hosting Provider of custom cloud hosting solutions for CPA Firms backed by AI security technology solutions and senior-level engineers who consistently achieve five-star customer satisfaction ratings. Primarily serving the accounting industry since 2001, Cetrom creates custom IT solutions to meet specific user, mobile, security and application needs for CPA firms. A Microsoft Partner with multiple Gold Competencies, Cetrom maintains SOC 2 Type ll compliant data centers across the United States. For more information, please visit www.cetrom.net
About Alliott Global Alliance:
Founded in 1979, and with 185 member firms in 80 countries Alliott Global Alliance is an international alliance of independent, law, accounting, and specialist advisory firms, working across the world Together as One.
Each of our members share a common goal: to learn and share knowledge, resources, and opportunities to make the world smaller and their businesses stronger.
We work with a spirit of generosity and openness — so that together, we can continue to fulfil our ambitions, gain greater experience, and drive mutual success.
Alliott Global Alliance is expanding fast, and the alliance has its sights set firmly on growing its legal and accounting membership to 100 countries.
Opportunities are available to independent professional firms in specific countries in Africa, but also in Europe, China, the ASEAN region, Australasia, the Gulf Cooperation Council region, Central and South America and in North America.
For information about membership or strategic partnerships please contact Giles Brake (Giles@alliottglobal.com), COO.