Zambian law firm Ranchhod, Chungu Advocates joins Alliott Global Alliance
15 March 2021
Alliott Global Alliance ('AGA'), one of the world's largest multidisciplinary alliances of professional services firms, has expanded its legal presence in Zambia by appointing Top 25 business law firm Ranchhod, Chungu Advocates ("RCA") in Lusaka.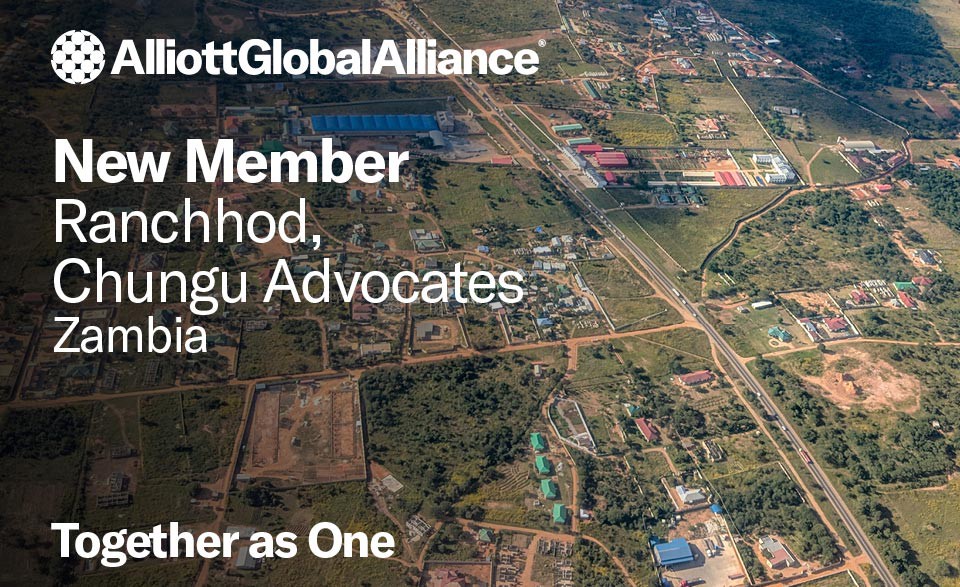 Founded in 2005, RCA is a full business law firm specialising mainly in dispute resolution, corporate and commercial law, and intellectual property.
Headed up by renowned commercial arbitrators, Dimple Ranchhod and Paulman Chungu, they and their dedicated team, have extensive experience that has resulted in peer and industry recognition and enabled them to become one of the top 25 law firms in Zambia. They act for a wide range of clients in the telecommunications, mining, agriculture, hospitality and leisure, banking, motor sales, public service companies and retail trading sectors.
Before finally establishing and founding RCA, Dimple was previously Legal Director in the stock broking and capital markets firm Pangea Partners and Paulman was an Advocate in the Attorney General's office and In-House Counsel for a multinational corporation.
Co-Managing Partner, Paulman comments:
"We are honoured to have been accepted as member of AGA. We understand the benefits that membership of an international alliance can bring, and the commitment required to realise these advantages, and look forward to working with our colleagues both locally and globally to mutual benefit.

"By joining such a renowned alliance, we will be able to raise our domestic profile, increase our footprint further across the African region, and potentially attract new international clientele, leading to an opportunity for growth for the firm. We will also be able to assist our clients who have business interests in other bordering jurisdictions including in South Africa, Zimbabwe and Kenya."
Alliott Global Alliance COO Giles Brake adds:
"Various Africa-wide initiatives have the potential to drive huge economic development in Africa in the next decade and integrate the continent further into global supply chains. Adding further expertise to our African Alliance is critical to our strategy of unlocking growth opportunities for domestic and foreign investors and the firms advising them. We are delighted that Ranchhod, Chungu Advocates have joined us to expand the services available to their clients to 80 countries. We look forward to putting our global resources behind their firm's name in the Zambian legal services market."
AGA's African Alliance has a presence in the following African countries: Cameroon, Ghana, Kenya, Lesotho, Malawi, Mauritius, Morocco, Nigeria, Senegal, South Africa, Tunisia, Zambia, and Zimbabwe.
About Ranchhod, Chungu Advocates:
The team at RCA possess a wealth of experience in the general areas of the firms' practice that is derived from extensive careers in diverse fields and institutions both private and public. Practice area heads are committed, experienced and dedicated professionals with traceable track records spanning many years of practice with excellence and distinction.
The firm boasts leading practitioners in its dispute resolution, contracts and negotiation, competition and patents and trade-marks departments and also has dedicated team members that specialize in immigration, company secretarial and corporate services work, capital markets, general regulatory and compliance and environmental management.
The strategic alliances with collaborating practitioners both within and outside Zambia, enables the team at RCA to provide a seamless service to clients and provide end to end solutions. RCA's ethos is for complete satisfaction and for leadership in the services provided. Committed to providing the utmost professional service and tailor-made solutions for clients, RCA also has an impressive record of acting for a wide range of clients, including players in the telecommunications industry, mining, agriculture, hotel, hospitality and leisure, banking, motor sales, public service parastatal companies and retail trading.
About Alliott Global Alliance:
Founded in 1979, and with 190 member firms in 80 countries Alliott Global Alliance s an award-winning alliance of independent, law, accounting, and specialist advisory firms, working across the world Together as One. Each of our members share a common goal: to learn and share knowledge, resources, and opportunities to make the world smaller and their businesses stronger. 
We work with a spirit of generosity and openness — so that together, we can continue to fulfil our ambitions, gain greater experience, and drive mutual success.
Alliott Global Alliance is expanding fast, and the alliance has its sights set firmly on growing its legal and accounting membership to 100 countries. Opportunities are available to independent professional firms in specific countries in Africa, but also in Europe, China, the ASEAN region, Australasia, the Middle East, Central and South America and in North America. For information about membership in Africa, contact Sophia Rook-Blackstone (sophia@alliottglobal.com) Membership Development Executive.