Strong growth continues in Q3 for Alliott Global Alliance
02 November 2020
13 accounting and law firms in 12 countries joined global multidisciplinary alliance Alliott Global Alliance ('AGA') in the last quarter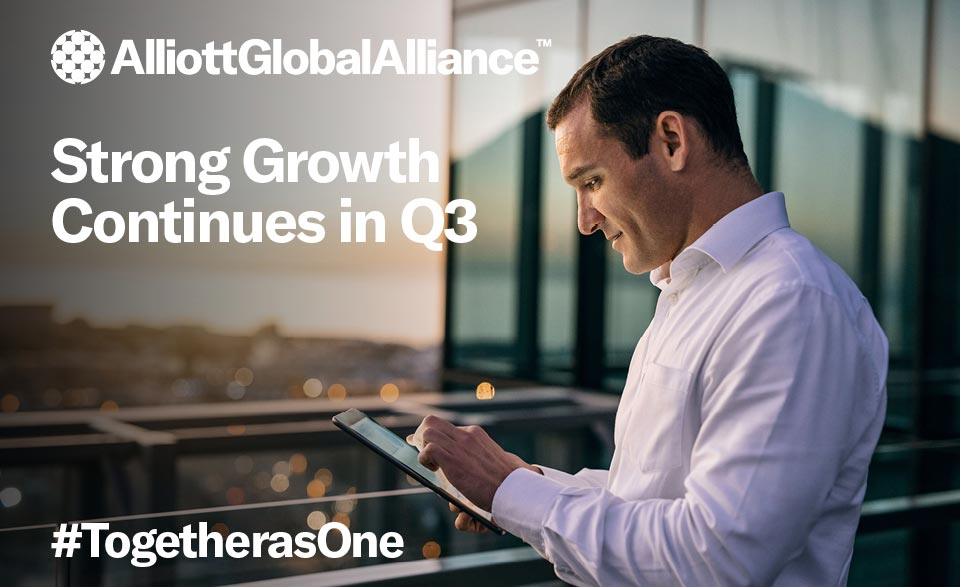 Despite the COVID-19 pandemic, the alliance has experienced its third successive quarter of expansion as it seeks to close the gaps in its global coverage and achieve its objective of becoming a 'Top 5 global multidisciplinary alliance' by 2025.
In the last quarter, the following 13 firms joined AGA in 12 countries: K&M Law (Cameroon), Proximo Auditores (Chile), Amaya & Guevara (El Salvador, accountants), H.Y. Leung & Co (Hong Kong, lawyers), BHSM (Ireland, lawyers), Ritz Attorneys (Malawi, lawyers), Trpnoski Law (North Macedonia), Galeano & Asociados (Panama, accountants), GPS Legal (Thailand), Advice KB (Sweden, tax advisors), Rum for Tax & Financial Consulting (Jordan) and SBC Solutions (Papua New Guinea, accountants).
This latest spike in growth follows record-breaking first and second quarters in 2020 in which 20 firms joined the alliance and increases the alliance's global coverage to 185 member firms in 225 cities in 80 countries.
Giles Brake, COO, comments:
"We are delighted that so many outstanding independent firms have chosen to align with our global kinship of firms. While the business environment remains challenging, we are keeping alliance members connected to relevant information and to each other to ensure they have the resources to steer their clients out of the crisis and into the new normal. High performing firms recognise that the continuing growth of the alliance will unlock new opportunities for them and deliver greater value by enabling them to solve more problems for their clients. Our fast growth is a clear indicator of our success and that our members like the direction we are going in. We will continue to target prospective member firms who will not only plug a gap in our coverage, but also play a proactive role in generating activity out of their region."
Colin Farmer, Worldwide Chair, adds:
"Our growing reputation is fuelling our growth. Indeed, much of our success stems from whom we have chosen to align ourselves with- professional firms want to be associated with other expanding and progressive firms and be part of an alliance that is proactively developing its brand and value proposition. I am delighted that we are managing our growth in the right way and are sustaining the quality of the services we provide. We are excited about our future and are very much on track to establish AGA as the international alliance of choice for progressive professional firms."
Q4 has already started well for AGA with law firm CQ Legal & Consulting joining the alliance in Ghana. The alliance anticipates appointing further firms in 2020 that can meet the membership criteria.
About Alliott Global Alliance:
Founded in 1979, and with 185 member firms in 80 countries Alliott Global Alliance is an award-winning alliance of independent, law, accounting, and specialist advisory firms, working across the world Together as One. Each of our members share a common goal: to learn and share knowledge, resources, and opportunities to make the world smaller and their businesses stronger.
We work with a spirit of generosity and openness — so that together, we can continue to fulfil our ambitions, gain greater experience, and drive mutual success.
Alliott Global Alliance is expanding fast, and the alliance has its sights set firmly on growing its legal and accounting membership to 100 countries. Opportunities are available to independent professional firms in specific countries in Africa, but also in Europe, China, the ASEAN region, Australasia, the Gulf Cooperation Council region, Central and South America and in North America.
For more information about membership contact Head of Global Business Development Damien McMenamin at Damien@alliottglobal.com
To find out more about our kinship of professional firms and to read the story of our rebrand, click here.