Rockridge Venture Law® joins Alliott Global Alliance in Tennessee
13 January 2022
Alliott Global Alliance ('AGA'), one of the world's largest international alliances of law and accounting firms, has appointed Top 10 Rockridge Venture Law, ('RVL') to represent the alliance in the state of Tennessee. RVL® is Tennessee's first and only Certified B Corp law firm, and one of the few in the country with this triple-bottom-line credential.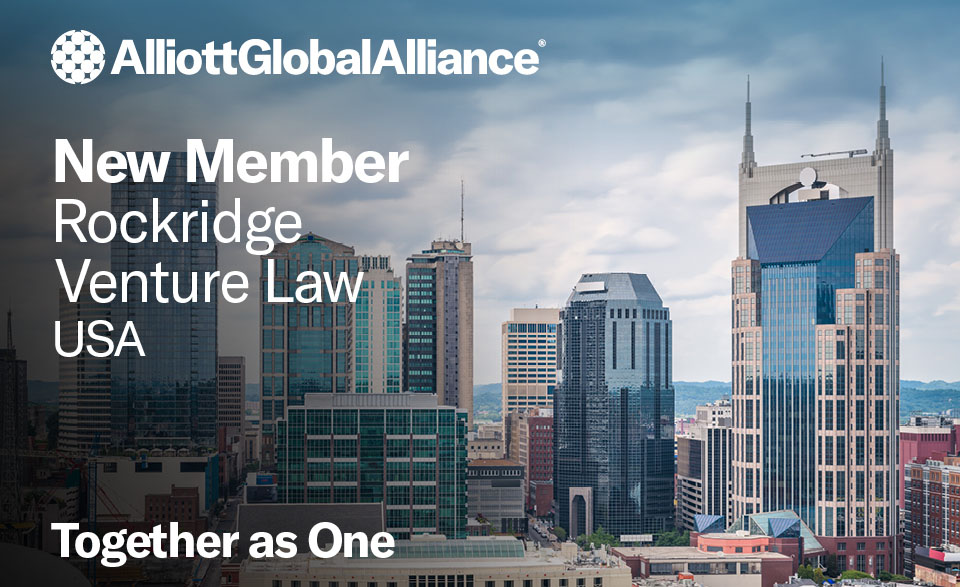 Founded in 2016 by biotech entrepreneur Kevin Christopher, RVL is a growing practice that is focused on the overlap of impact and innovation among athletes, entrepreneurs, investors, and multinationals. RVL's vision is to practice law in a way that positively impacts the world around us, believing that the challenging work of Building Today's Companies for Tomorrow's Economies® includes positively impacting the environmental and social fabric of local communities. RVL is a Best for the World Honoree and Real Leaders Top 150 global impact business.
RVL's services include all aspects of intellectual property, litigation, M&A, privacy, technology transactions, and ventures as well as B Corps, ESG & social enterprises.
Founder and Principal Kevin Christopher, comments:
"As a member of AGA, and through our new global connections, we can now offer clients with overseas contractors, intellectual property portfolios and sponsorships additional resources to help them with their international business needs.

"With our reach expanding to over 85 countries, we can build our international profile, and aim to reach more global companies looking to become B Corps. Already recognized among the top 5% of global B Corps, our skill set combined with those of our fellow members will help integrate our client representation, so we are the go-to firm within this niche for members and new and existing clients."
Alliott Global Alliance COO Giles Brake adds:
"This is an excellent appointment for AGA. Highly qualified, the impressive team at RVL can provide a high level of service in a location where we are not currently represented. Their clear upward trajectory, and an expanding portfolio of innovative clients who have a growing demand for professional services provision outside of Tennessee make RVL a great fit for our alliance. Furthermore, RVL bring innovations and new skillsets that other AGA members in North America can integrate into their own client representation. We welcome Kevin and all the team to the alliance."
Alliott Global Alliance has added five firms to its North American alliance in the last 24 months, including Torres Law (Dallas, TX), Wildeboer Dellelce (Toronto), Ravan & Co (Miami, FL) and now Rockridge Venture Law (Tennessee).
About Rockridge Venture Law:
Building Today's Company For Tomorrow's Economy:
Our mission is to grow the impact economy by helping entrepreneurs, corporations, and investors scale businesses and technologies for good.
Ours is not the type of legal service that can be offered by a general practice firm, or by an attorney who went from undergrad to law school to a law firm with little understanding of how scaling works. At Rockridge we've assembled a core leadership team of Silicon Valley and New York tech law expats, Ph.D.'s publishing in the major journals, and innovative young minds pioneering their respective practice areas.
We've been named a Best for The World three years in a row, recognized among the top 5% of global B Corps.
We offer a suite of corporate, ESG, data privacy, and intellectual property services.
Read more about our vision and the types of clients we work with: rockridgelaw.com.
About Alliott Global Alliance:
Founded in 1979, and with 200 member firms in over 85 countries, Alliott Global Alliance is an international alliance of independent, law, accounting, and specialist advisory firms, working across the world Together as One. Each of our members share a common goal: to learn and share knowledge, resources, and opportunities to make the world smaller and their businesses stronger.
We work with a spirit of generosity and openness — so that together, we can continue to fulfil our ambitions, gain greater experience, and drive mutual success.
Alliott Global Alliance is expanding fast, and the alliance has its sights set firmly on growing its legal and accounting membership to 100 countries. Opportunities are available to independent professional firms in specific countries in Europe, but also in, China, the ASEAN region, Australasia, the Gulf Cooperation Council region, Central and South America and in North America. For information about membership in North America, contact Damien McMenamin (damien@alliottglobal.com), Chief Growth Officer.