Record quarter of growth for international alliance Alliott Group
21 July 2020
Alliott Group, the world's sixth-largest multidisciplinary alliance of independent professional firms, has enjoyed a record quarter of membership growth.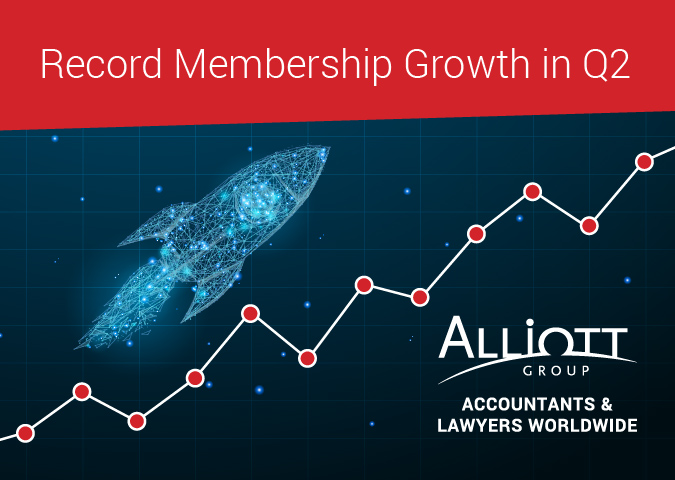 Alliott Group, the world's sixth-largest multidisciplinary alliance of independent professional firms, has enjoyed a record quarter of membership growth.
In the second quarter of 2020, Alliott Group admitted 13 new member firms, adding to the seven that joined in the first quarter of the year. Recent growth expands the alliance's membership to 180 member firms and Preferred Partners in 235 cities across 76 countries.
With a goal of becoming the world's fifth-largest multidisciplinary alliance by 2025, the alliance is focused on selecting and appointing independent accounting and law firms that can provide a broad range of business services to clients in their jurisdictions. The capacity and willingness to contribute proactively to the alliance's goals and growth programs is also an important consideration in appointing each member firm. An organic growth strategy is targeting a minimum of 20 new member firms per year for the next five years, with a specific focus on key markets in North America, Europe, the Greater China region, Australasia, and Africa.
In Q2, the following 13 firms joined the alliance: Old Bailey Chambers (Bangladesh, lawyers), Chance Bridge Partners (China, lawyers), DVBS (Costa Rica, lawyers and accountants), Jeeva Partnership (Malaysia, lawyers), CS Avocats Associés (France, lawyers), Advocatus Law (Singapore, lawyers), Tax Financial Leaders Del Ecuador (Ecuador, accountants), BGO (Slovenia, lawyers), Wildeboer Dellelce (Canada, lawyers), SST Attorneys (South Africa, lawyers), Muvingi & Mugadza (Zimbabwe, lawyers), Torres Law (United States, lawyers) and Ortiz González Luarte Abogados (Chile, lawyers).
Giles Brake, COO, comments:
"Despite COVID-19, we continue to make strong gains. We have expanded into new countries where there are clear opportunities for the alliance and progressive firms that have the right client bases and energy levels to take advantage. We have also taken steps to consolidate our presence in key geographic territories. In recent times, we have reinvented ourselves, and our alliance has a new energy about it. Our member firms value the close and committed relationships that exist within the alliance, and they enjoy the unique family feel."
Colin Farmer, Worldwide Chair of Alliott Group, adds:
"Our ability to pivot to a new business model during COVID-19 demonstrates strong leadership and high energy levels. Furthermore, our underlying resilience and strong value proposition have been key to our ability to thrive during the current economic crisis, and not just survive. It would seem that we are one of the happy recipients of the pent up demand during COVID-19 from independent, medium-sized firms that need to increase their regional and international networks and to maintain a visible profile, particularly with global conference networking for the accounting and legal professions on hold right now. We encourage progressive firms to look at what we have to offer."
The third quarter has started well with new firms joining in Ireland (BHSM, lawyers), Thailand (GPS Accounting), Cameroon (K&B Law), Sweden (Advice KB, tax advisers), Chile (Proximo Auditores), El Salvador (Amaya & Guevara Auditores) and North Macedonia (Trpnoski Law). The alliance anticipates appointing further firms in 2020 that can meet the membership criteria.
About Alliott Group:
Founded in 1979, and with 180 member firms in 76 countries, Alliott Group is an award-winning international association ('alliance') of independent accounting, law and specialist services firms that need deeper levels of cross border resources to develop reputation, visibility, and new business. Alliott Group provides services to help its member firms to position themselves as the 'go to' firms in their local markets for businesses and private individuals with multi-market business interests.
Alliott Group is expanding fast, and the alliance has its sights set firmly on growing its legal and accounting membership to 100 countries. Opportunities are available to independent professional firms in specific countries in Africa, but also in Europe, China, the ASEAN region, Australasia, the Gulf Cooperation Council region, Central and South America and in North America. For information about membership, contact Damien McMenamin (damien@alliottgroup.net), Head of Global Business Development.