Rabin & Associates joins Alliott Global Alliance in Malaysia
01 October 2021
Alliott Global Alliance (AGA), one of the world's largest global multidisciplinary alliances, with 200 members in 85 countries, continues its expansion in the Southeast Asian region with the appointment of Top 25 accounting firm Rabin & Associates in Malaysia.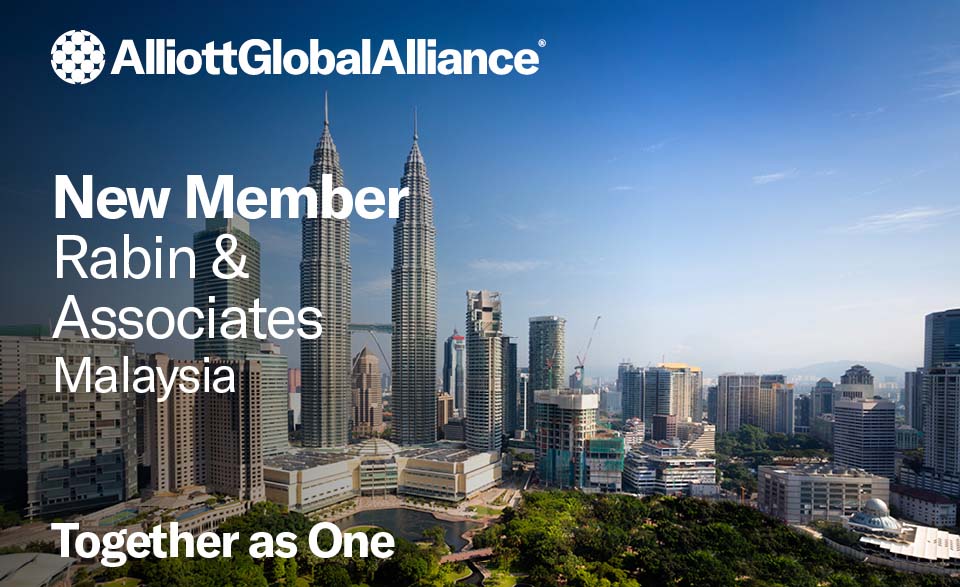 The strategic appointment of one of Malaysia's leading independent firms ensures AGA can offer international companies, through Rabin & Associates, access to a full range of compliance and advisory services in Malaysia. As the Alliance's sole representative accounting member firm in Malaysia, Rabin & Associates retains its full independence while expanding its reach to 85 countries, building its client base, and gaining a depth and breadth of resources only available to the world's largest consulting firms.
Founded in 1987, by Rabindra Singh Veriah, a staff of 70 provide accounting, tax, audit, and advisory services to an impressive portfolio of clients mainly in the retail and trade, service, tech and manufacturing sectors, including the local subsidiaries of global groups, leading private equity firms, growing businesses and up and coming entrepreneurs. Business at the firm is conducted in the English, Bahasa Malaysian, and Mandarin languages.
Rabindra Singh Veriah, Managing Partner, comments:
"We have been approached by many alliances over the years but had resisted until now. The time has come to expand our reach internationally through an affiliation, so we are excited to join Alliott Global Alliance. This new relationship gives our clients access to professional expertise in 85 countries across six continents. We now look forward to collaborating, sharing knowledge, and developing our clients' business internationally."
Alliott Global Alliance CEO, Giles Brake, adds:
"Malaysia is a country rich in resources and whose government offers significant incentives to foreign investors. Signing this agreement with Rabin & Associates ensures international clients have a trusted, responsive firm whose expert local professionals will help them to capitalise on Malaysia's potential. The firm has a stellar reputation and a strong vision of where it wants to be, so we are delighted that Rabindra and his team view AGA as an important component of their strategy to achieve this vision in the years ahead."
Rabin & Associates's appointment gives the alliance dual representation in Kuala Lumpur with Jeeva Partnership providing legal services. Alliott Global Alliance is growing continuously and now has member firms in the following APAC countries: China, Hong Kong, Bangladesh, Singapore, Indonesia, Malaysia, India, Australia, Papua New Guinea, New Zealand, Japan, South Korea, Nepal, Pakistan, Thailand, Taiwan, and Vietnam.
About Rabin & Associates:
Rabin & Associates has played an integral part in the growth and progress of Malaysia since 1987. Since inception, we have established a solid reputation for professionalism, responsiveness, innovation, and integrity. Today, we continue to work with an impressive clientele encompassing global companies, leading private and public sector entities, growing businesses and up-and-coming entrepreneurs across all industries to provide solutions to their complex business issues.
We help top executives make better decisions, execute those decisions, and deliver the sustainable success they desire. For over 30 years, we have been passionate about taking our clients' businesses to greater heights. We deliver effective solutions that go beyond financial, and each solution is uniquely tailored, pragmatic, holistic and most importantly enduring.
About Alliott Global Alliance:
Founded in 1979, and with 200 member firms in over 85 countries, Alliott Global Alliance is an international alliance of independent, law, accounting, and specialist advisory firms, working across the world Together as One. Each of our members share a common goal: to learn and share knowledge, resources, and opportunities to make the world smaller and their businesses stronger. 
We work with a spirit of generosity and openness — so that together, we can continue to fulfil our ambitions, gain greater experience, and drive mutual success.
Alliott Global Alliance is expanding fast, and the alliance has its sights set firmly on growing its legal and accounting membership to 100 countries. Opportunities are available to independent professional firms in specific countries in Africa, but also in Europe, China, the ASEAN region, Australasia, the Gulf Cooperation Council region, Central and South America and in North America. For information about membership in the APAC region, contact Damien McMenamin (damien@alliottglobal.com), Chief Growth Officer.