Q&A with Jasmin Janné, Partner and Co-Head of Dispute Resolution at Byro Legal
06 March 2023
As part of our focus on the many talented professionals working at Alliott Global Alliance's member firms, we caught up with Jasmin Janné, newly appointed Partner and Co-Head of Dispute Resolution at Byro Legal Ltd in Helsinki, Finland.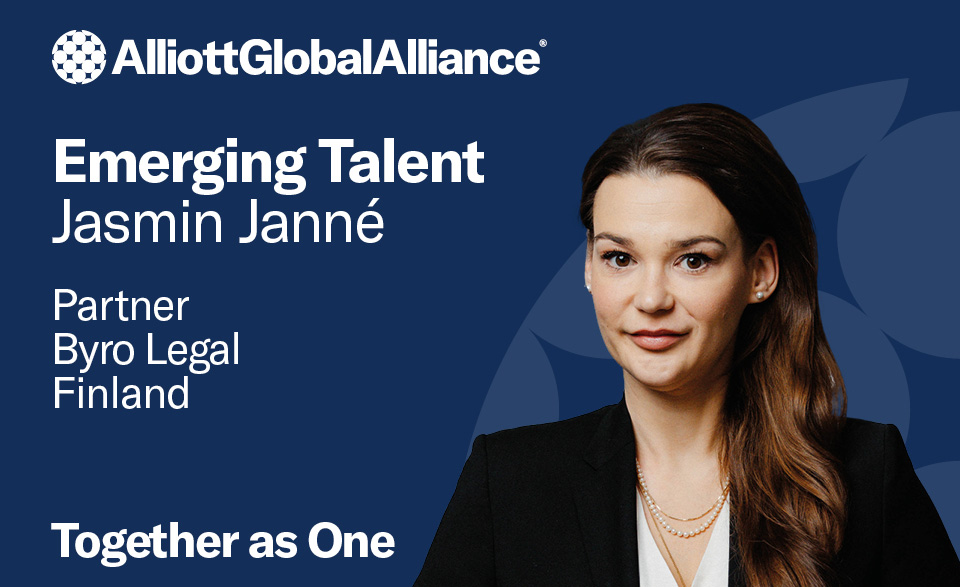 Appointed to Byro Legal in January this year Jasmin Janné is an expert in her field, recognised for her stellar work in complex commercial disputes involving, e.g. breach of contract, wrongful termination and claims for damages.
In this Q&A we asked Jasmin a little about her background, why she decided to become a lawyer and what motivates her.
POSITION AND TITLE
Partner, Co-Head of Dispute Resolution at Byro Legal Ltd., Dispute Resolution and Conflict Management Counsel
WHY DID YOU CHOOSE THIS AS YOUR CAREER?
I have to say that I "chose" my career as a dispute resolution lawyer by accident, but I was immediately carried away. At the end of my studies, I participated in the Willem C. Vis International Commercial Arbitration Moot, which was a turning point for my future career. The competition was my first experience of what it would be like to work as a litigation lawyer. Through contacts made during the competition, I got a job at a law firm specializing in dispute resolution and my career as a dispute resolution lawyer began.
I am a pragmatic and solution-oriented person by nature. For this reason, I think I am someone to whom people turn when faced with a dilemma that requires a situation analyse or recommendations for action. Even in a complex case, a good litigation lawyer can draw up clear and concrete steps to go forward. This is what every customer ultimately wants.
WHAT IS THE BEST PART OF YOUR JOB?
Working as a dispute resolution lawyer is very versatile. Although the procedural rules remain the same, the substance of each dispute is different. With every assignment, you learn something new about the customer's business, products, or branch of industry. This keeps the tasks of a litigation lawyer exciting year after year.

WHAT IS YOUR FIRM'S DIFFERENCE IN YOUR OPINION?
We deliver client-centric, quality-driven advice to sophisticated clients. We run a bright and responsive team that is comprised of experienced lawyers with backgrounds working with the top firms in the market. Our approach is simple: instead of focusing on irrelevant details, we de-risk effectively and provide no-nonsense, disclaimer-free advice. Regarding pricing, we plan and forecast our work diligently. This allows us to provide transparent quotes that hold and fixed price where possible.

WHAT DO YOU CONSIDER TO BE YOUR BIGGEST ACHIEVEMENT TO DATE?
This is a tough one, but perhaps that I was trusted with my current position as a partner of Byro Legal and a co-head of its dispute resolution team already at this point of my career. Yet, I feel that the reason I am where I am is a result of several achievements over the course of my career, rather than one achievement.

WHAT MOTIVATES YOU?
Dispute resolution is all about problem-solving. The fact that I might be able to help someone with my expertise is motivating. Besides, when practicing dispute resolution, you are always learning and growing professionally. What could be better?

NAME ONE THING YOU CANNOT DO WITHOUT
This is easy: my family and when it comes to work, my noise-cancelling headphones.

ARE YOU A MEMBER OF ANY COMMERCE, CULTURAL OR COMMUNITY ORGANISATIONS? 
I am a member of Young Arbitration Club Finland (YACF), which is an association for young lawyers and other professionals interested in arbitration and alternative dispute resolution. For two years I acted as a Board Member and the treasurer of the organisation. I am also a member of the Association of Finnish Lawyers promoting professional interests and functions as a legal expert body.

WHAT IS THE ONE THING YOU WOULD LIKE TO SEE ALLIOTT GLOBAL ALLIANCE IMPLEMENT?
I am just getting to know  Alliott Global Alliance so I am looking forward to meeting as many of Alliott Global Alliance's members as possible at upcoming events, including at the EMEA conference in Stockholm in May 2023. After this, I promise to answer this question in more detail!
Contact Jasmin at jasmin.janne@byro.legal Telephone +358 40 734 5801
Further news:
Alliott Global Alliance expands to Finland through Byro Legal.
About Byro Legal Ltd:
As AGA's law firm representative in Finland, Byro Legal is an independent business law firm on a mission to make their clients and people happy. The firm was founded by lawyers who wanted to create a modern law firm with modern values.
Their approach to providing advice is simple: they deliver client-centric, quality-driven advice to their clients. To ensure that they can fulfil their service promise to their clients, Byro runs a lean, committed team that is solely comprised of experienced lawyers that have a background from the top firms in the market. Instead of having a pyramid organization, they guarantee that an experienced expert handles each assignment. This is how they ensure high-quality and efficient execution.