Peña Mancero Abogados joins Alliott Global Alliance in Colombia
26 April 2021
A leading law firm in the Colombian market, Peña Mancero Abogados has been appointed as Alliott Global Alliance's sole representative member in the country.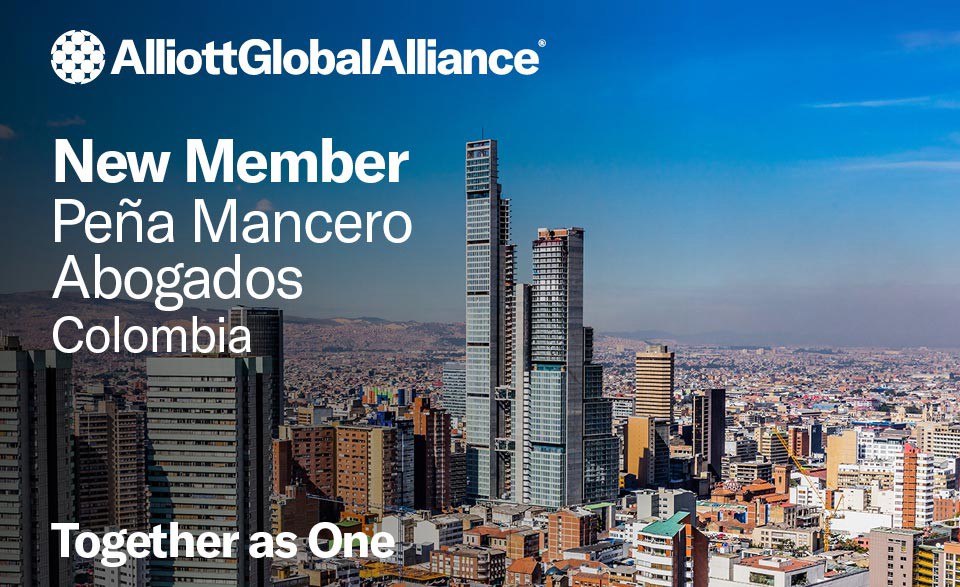 A leading law firm in the Colombian market, Peña Mancero Abogados has been appointed as Alliott Global Alliance's law firm member in Colombia. The fast-growing firm becomes the alliance's sole representative member in the country. Alliott Global Alliance ('AGA') is an international alliance of law and accounting firms with a presence in 80 countries.
A full-service law firm, Peña Mancero Abogados, based in Bogota, was established in 2010 by partners Gabriela Mancero and Daniel Peña. They and their 22 staff offer M&A, IT law, corporate, litigation and commercial legal services to a large portfolio of national and international clients primarily in the technology, manufacturing, Ecommerce, retail, not-for-profit and renewable energy sectors.
Over the last decade, Peña Mancero Abogados has secured its place in a competitive market as one of Colombia's top 50 law firms. The firm is ranked by Chambers and Partners for their work in M&A, and they are members of the International Bar Association (IBA), the American Chamber of Commerce and the Associación Colombiana de LegalTech.
Co-Founding Partner Gabriela Mancero comments:
"We are excited to join Alliott Global Alliance. They are an international group of independent firms which is expanding fast in Latin America and across the world. Affiliation will contribute to our growth in the years ahead by extending our global reach to 80 countries and it will expand our firm's profile internationally. As member of an alliance of like-minded, trusted, client focused law and accounting firms, we can now meet the growing needs of Colombian companies and investors looking to expand outside of our country, including those who require support elsewhere in Latin America, but also in Asia, Europe, and North America.

"We are proud to represent AGA and look forward to providing our expertise and high levels of personal service to our new colleagues at 195 firms across the world."
Giles Brake, CEO of Alliott Global Alliance, adds:
"We are delighted to welcome Peña Mancero Abogados who join a fast-expanding network of law and accounting firms in Latin America. They have an impressive practice and international orientation which will add great value to the alliance's ability to meet client needs in the wider region and in a growing number of emerging sectors. As a member of AGA, Peña Mancero Abogados now has access to powerful international resources it can utilise to ensure outstanding service for clients almost anywhere in the world and to unlock new, bigger opportunities in Colombia. We extend a very warm welcome to Gabriela and Daniel."
Alliott Global Alliance's Latin American membership is growing organically at a fast rate with new accounting and law members now present in 12 countries across the Latin American continent. Firms joining in the last 12 months include in: Argentina (Estudio Nunes & Asociados Abogados), Brazil (Zancan, Almeida e Silva Advogados and Consulcamp Auditoria e Assessoria), Mexico (Vazquez Tercero & Zepeda), Costa Rica (DV Business Solutions), Ecuador (Tax Financial Leaders Del Ecuador), Chile (OGL Abogadas and Proximo Auditores) El Salvador (Amaya & Guevara Auditores) Panama (Galeano & Asociados) and soon to be announced (PGS Attorneys), Peru, (ARE) and now Colombia.
About Peña Mancero Abogados:
Peña Mancero Abogados is a leading law firm in Colombia. Founded in 2010, it provides comprehensive support to customers looking to developing their businesses in Colombia and in exploring international markets. Services rendered by the law firm are part of international best practices of law and the highest ethical standards. All of this has allowed PM Abogados to consolidate its practice counting to date with a solid showcase of national and international clients with companies of various sizes and different industry sectors.
Along with its legal practice, the firm values and contributes to the development of the legal science for which PM ABOGADOS participates actively in prominent international business law associations, the academic life and regularly publishes news and articles of interest to our clients and the international legal community.
About Alliott Global Alliance:
Founded in 1979, and with 195 member firms in 80 countries Alliott Global Alliance is an award-winning alliance of independent, law, accounting, and specialist advisory firms, working across the world Together as One. Each of our members share a common goal: to learn and share knowledge, resources, and opportunities to make the world smaller and their businesses stronger.
We work with a spirit of generosity and openness — so that together, we can continue to fulfil our ambitions, gain greater experience, and drive mutual success.
Alliott Global Alliance is expanding fast, and the alliance has its sights set firmly on growing its legal and accounting membership to 100 countries. Opportunities are available to independent professional firms in Central, North and South America, and in specific countries across Africa, Europe, China, the ASEAN region, Australasia, and the Middle East.
For information about membership in Central and South America contact Sophia Rook-Blackstone (sophia@alliottglobal.com).