Lex Frontier appointed Alliott Global Alliance's law firm member in Mauritius
09 February 2021
Alliott Global Alliance ('AGA'), one of the world's largest multidisciplinary alliances of professional services firms, has expanded its legal membership in Africa through the appointment of business law firm Lex Frontier in Mauritius.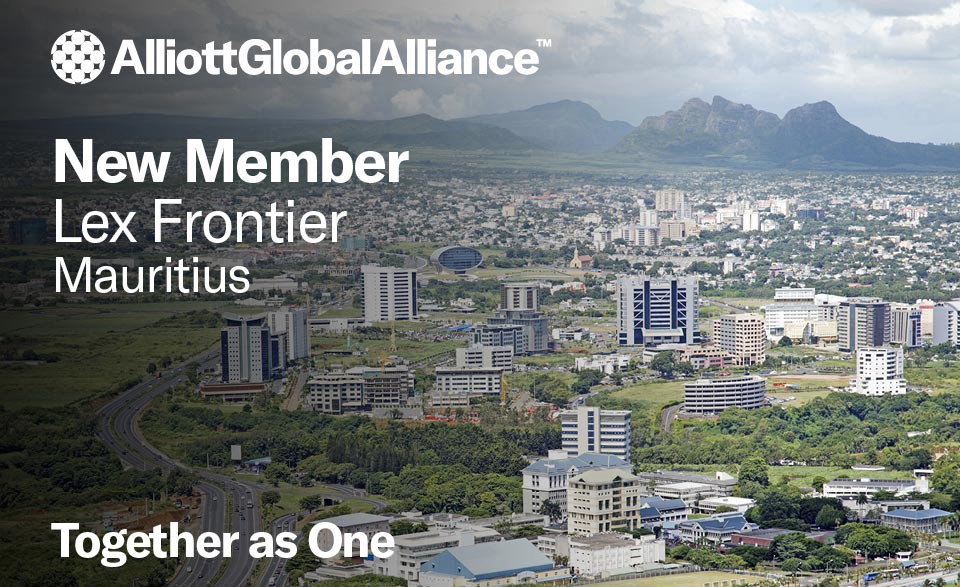 This exciting development gives the alliance dual representation in the country alongside accounting firm member Alliott Mauritius.
Established in 2019 by Ashveen Gopee, who previously worked on corporate transactions for top tier law firms in Mauritius, Lex Frontier offers expert advice in corporate and commercial, fintech and ecommerce, employment and intellectual property law across the financial, private equity, energy, and construction sectors, plus several emerging sectors such as fintech, e-business, payment gateways and crypto currency. The firm also recently advised on the setting up a crypto trading platform, Digital Ledger Technology (DLT) and Ashveen is a frequent author of articles on this topic.
Ashveen, comments:
"We are excited that our firm has been admitted as the exclusive law firm member of Alliott Global Alliance in Mauritius. We are totally aligned with AGA, in that all at Lex Frontier are driven by a common culture and vision for client centric excellence and can now benefit from working with dynamic and like-minded colleagues who have an international outlook and a focus on innovative and client-oriented service delivery.
"With the help of our fellow members, we can now assist those clients with interests outside of the region including those with business interests further across Africa, in Asia and Europe.

"Likewise, because of the close ties Mauritius has with various jurisdictions including in Africa, China, India and Europe, and the various trade agreements the region has in place, we can offer our members mutual support."
Alliott Global Alliance COO Giles Brake adds:
"With financial services and ICT sectors that are among Africa's strongest, full embrace of the global digital economy and a business-friendly environment, we needed to appoint a law firm that could ensure full utilisation of Mauritius' competitive advantages by our member firms and their international clients. Although a relatively young firm, the Lex Frontier team bring with them experience and innovation in their approach, practice organisation and plans for strategic growth. We offer a warm welcome to Ashveen and the team at Lex Frontier."
The alliance now has a presence in the following African countries: Cameroon, Ghana, Kenya, Malawi, Mauritius, Morocco, Nigeria, Senegal, South Africa, Tunisia, Zambia and Zimbabwe.
About Lex Frontier:
Lex Frontier is a law firm registered with the Attorney General's Office under the Law Practitioners Act 1984 in Mauritius.
It is a fully integrated law firm with a client-centric approach that combines industry expertise with legal knowledge to devise cutting-edge solutions corresponding to unique challenges. Lex Frontier acts as a trusted advisor on broad offshore and corporate matters including M&A, capital markets, setting up of funds, trust structures and other corporate vehicles for the establishment of investment projects in and through Mauritius, particularly to Africa and Asia while staying ahead of the curve in dynamic sectors such as FinTech, Blockchain, Asset Tokenization, Token Offerings, Energy, E-commerce, Pharmaceuticals and Intellectual Property.
Members of the team also regularly advise on construction law issues including FIDIC contracts. Lex Frontier is a proud member of Alliott Global Alliance and of Chambre de Commerce et d'Industrie Swiss Maurice and works in collaboration with Thomas More International.
About Alliott Global Alliance:
Founded in 1979, and with 190 member firms in 78 countries Alliott Global Alliance is an award-winning alliance of independent, law, accounting, and specialist advisory firms, working across the world Together as One. Each of our members share a common goal: to learn and share knowledge, resources, and opportunities to make the world smaller and their businesses stronger.
We work with a spirit of generosity and openness — so that together, we can continue to fulfil our ambitions, gain greater experience, and drive mutual success.
Alliott Global Alliance is expanding fast, and the alliance has its sights set firmly on growing its legal and accounting membership to 100 countries. Opportunities are available to independent professional firms in specific countries in Africa, but also in Europe, China, the ASEAN region, Australasia, the Middle East, Central and South America and in North America. For information about membership in Africa, contact Sophia Rook-Blackstone (sophia@alliottglobal.com) Membership Development Executive.