Law Firm Spingarn joins Alliott Global Alliance in Ecuador
20 March 2023
Alliott Global Alliance ('AGA'), one of the world's largest and fastest-growing multidisciplinary alliances of professional services firms, has concluded an agreement with full-service, top 10 law firm Spingarn to represent the alliance in Ecuador.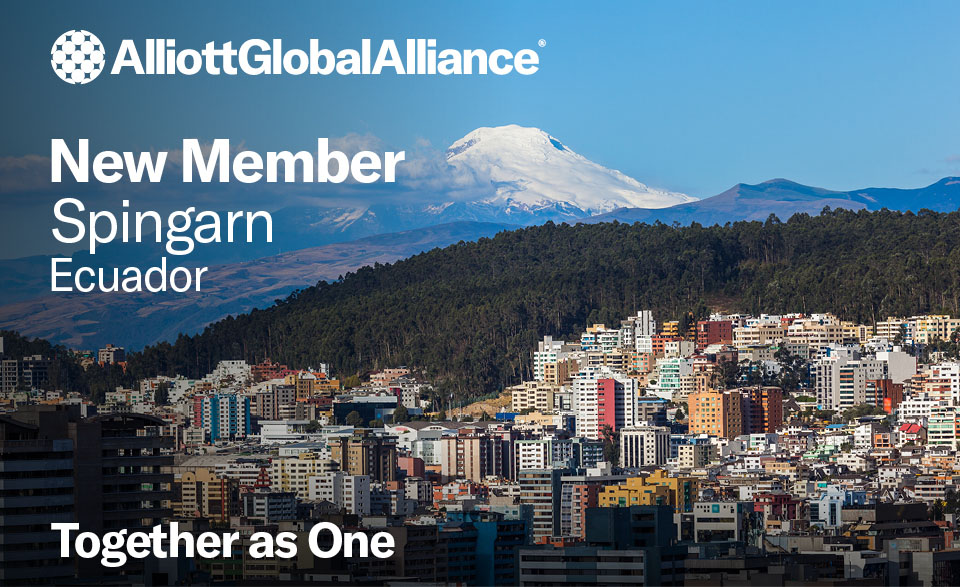 AGA is one of the world's largest and fastest-growing global multidisciplinary alliances, with 215 member firms in 95 countries and is ranked as a Band 1 Law Firm Network by Chambers and Partners.
This latest appointment expands AGA's legal 'network' in the Latin America & Caribbean Region to 15 countries, ensuring organizations can leverage AGA to access the full range of professional advisory services across Latin America and worldwide. The need for accounting services is met in Ecuador by AGA's accounting member Tax Financial Leaders del Ecuador (TFL).
Based in Quito and established over a decade ago, the team at Spingarn provides corporate & M&A, litigation, and legal consultancy services to an impressive range of national and international high-profile clients working mainly in the financial and insurance, telecommunications, automotive, and aviation sectors. Clients include Claro, owned by América Móvil, one of the most important operators within the telecommunications sector in Ecuador, and Banco Pichincha, the largest private-sector bank in the country.
Managing Partner Andrés Narváez comments:
"We are delighted to represent AGA as its law firm member in Ecuador. We have found the perfect partner to help us expand our current client opportunities and look forward to utilising the resources offered by the alliance to fuel our firm's future growth, particularly across the energy, data protection, telecommunications, finance, litigation, and legal procurement sectors.

"As well as having access now to member firms across Latin America who we can collaborate with, share best practice, and who can assist us with our local clients' business needs, we can now also utilise the services of quality professionals globally for clients with commercial interests elsewhere, including in Canada, the United States, Italy, Morocco, Algeria, Egypt, Saudi Arabia, India, China, Thailand, Japan, and Australia."
Giles Brake, Alliott Global Alliance CEO, adds:
"Achieving full-service coverage across the Latin America & Caribbean region is a key objective for AGA in the next three years. Spingarn's affiliation is a major step towards reaching this target. This ambitious, fast-growing, Legal 500 ranked law firm has proven expertise and experience in serving corporations that demand sophisticated legal services be delivered with a personal touch. With AGA's global brand and resources behind them, Spingarn provides an even more compelling value proposition to multinationals expanding to and out of Ecuador. We extend a very warm welcome to our new colleagues at Spingarn."
Across Latin America and the Caribbean, AGA has member firms in Argentina, Belize, Brazil, Chile, Colombia, Costa Rica, Ecuador, El Salvador, Guatemala, Mexico, Panama, Peru, Saint Kitts & Nevis, Uruguay, and Venezuela.
About Spingarn:
As Alliott Global Alliance's law firm representative in Ecuador, the attorneys, tax specialists, CPAs and business assessors at Spingarn have the necessary experience to turn your challenges into opportunities.
Over the last ten years the team has consolidated a portfolio of top clients including high profile companies based in the region and internationally. 
About Alliott Global Alliance:
Founded in 1979, and with 215 member firms in 95 countries Alliott Global Alliance is an international alliance of independent, law, accounting, and specialist advisory firms, working across the world Together as One.
Each of our members share a common goal: to learn and share knowledge, resources, and opportunities to make the world smaller and their businesses stronger.
We work with a spirit of generosity and openness — so that together, we can continue to fulfil our ambitions, gain greater experience, and drive mutual success.
Alliott Global Alliance is expanding fast, and the alliance has its sights set firmly on growing its legal and accounting membership to 100 countries. Opportunities are available to independent professional firms in specific countries in Africa, but also in Europe, China, the ASEAN region, Australasia, the Gulf Cooperation Council region, Central and South America and in North America. For information about membership in Central and South America email membership@alliottglobal.com