Kouengoua & Mbattang (K&M Law) appointed as Alliott Group's law firm member in Cameroon
27 July 2020
Alliott Group, the world's sixth largest multidisciplinary alliance of independent professional firms, has continued to build its membership in Africa with the appointment of leading Cameroon law firm Kouengoua & Mbattang (K&M Law).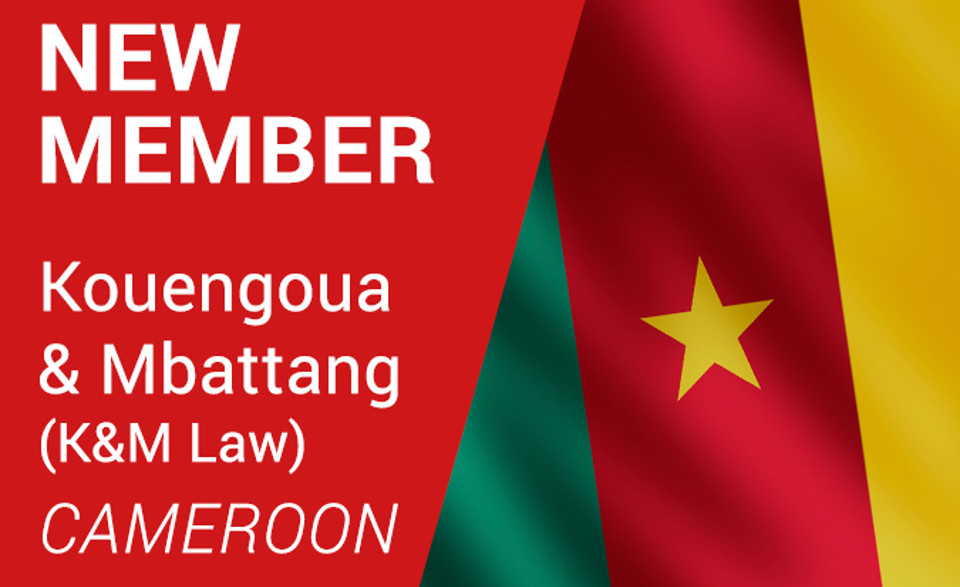 Alliott Group, the world's sixth largest multidisciplinary alliance of independent professional firms, has continued to build its membership in Africa with the appointment of leading Cameroon law firm Kouengoua & Mbattang (K&M Law).
K&M Law's appointment follows the admission in April of law firms Molenaar and Griffiths (now SST Inc.) in South Africa and Muvingi & Mugadza Legal Practitioners in Zimbabwe.
A top 10 national law firm formed in 1984, and headed up by Senior Managing Partner Mr Kouengoua, the firm has grown significantly over the last five years and has an increasingly strong profile in the legal sector in the Central African region. Specialising in Corporate, Commercial, Banking and Finance, Infrastructure and Energy, IP and Immigration law, K&M Law has achieved Tier 2 Legal 500 and Tier 3 Chambers and Partner rankings in recent years.
The firms' clients are mainly from the regulatory and compliance, oil and gas, banking and finance and energy sectors and include many respected and well-established blue-chip and Fortune 500 companies, as well as international law firms and governments. Clients include Commerzbank Paris, SAKOM FZCO, SDA Worldwide, British Telecom, Vodacom Business Africa, MTNI, GE, Facebook and Standard Charter Bank Singapore. Staff at the six-partner firm are fluent in the local languages of French and English.
Partner Tommy Agbor Nkongho, comments:
"The world is now a global village, and it is important to build strong relationships with our peers both nationally and internationally. We have clients needing assistance potentially in neighbouring countries in Africa, Europe, the UAE, ASIA and the USA and being members of a global alliance will allow us bounce ideas off each other through fruitful intellectual exchange, good practices, business intelligence and most especially expand our reach into those geographical regions which, in the past, appeared far fetched. Above all, we can now participate in rich, multicultural, intellectual collaboration. We will also use the resources available to us to increase our profile and become more competitive in our region as we seek to provide high quality services of international standards. We see Alliott Group as the one-stop-shop for all we seek to achieve as a mid-size firm in our market."
Ouassim Akil of AKONSEIL in Morocco, who represents the African region on the alliance's EMEA Regional Advisory Committee, adds:
"We are delighted to appoint Tommy and his colleagues at K&M Law as our law member in Cameroon. They are exactly the calibre of law firm we have been looking to introduce into our fast-developing membership in Africa. We send a warm welcome to everyone at the firm."
Giles Brake, Alliott Group COO said:
"Our growth strategy in Africa is built on selecting and appointing strong business advisory firms across the continent's major hubs. We are really pleased to expand Cameroon through K&M Law, a firm with clear growth goals that views affiliation with Alliott Group as a key part of their strategy to amplify their solid reputation. With the ability to practice not only in Cameroon but also in most OHADA member states, K&M Law provide a valuable conduit to doing business in West and Central Africa and is definitely a firm to watch."
Alliott Group is growing organically in Africa at a steady rate and has member firms in South Africa, Cameroon, Nigeria, Kenya, Tunisia, Senegal, Egypt, Morocco, Zimbabwe, and Zambia. The alliance is targeting further expansion in Africa.
About Kouengoua & Mbattang (K&M) Law Firm:
Kouengoua & Mbattang (K&M) is a leading Cameroonian law firm, uniquely positioned to help clients achieve their business goals in a varied range of sectors.
As a leading regional law firm, our cross-border experience and diverse team of young, vibrant, and forthcoming qualified lawyers consistently deliver results for our clients. Our cost effective and productive approach always leaves clients more than satisfied. Perfectly bilingual, our lawyers are qualified to handle all types of cases in the respective local languages (French and English).
About Alliott Group:
Founded in 1979, and with 180 member firms in 75 countries, Alliott Group is an award-winning international association ('alliance') of independent accounting and law firms that need deeper levels of cross border resources to develop reputation, visibility, and new business. Alliott Group provides services to help its member firms to position themselves as the 'go to' firms in their local markets for businesses and private individuals with multi-market business interests.
Alliott Group is expanding fast, and the alliance has its sights set firmly on growing its legal and accounting membership to 100 countries. Opportunities are available to independent professional firms in specific countries in Africa, but also in Europe, China, the ASEAN region, Australasia, the Gulf Cooperation Council region, Central and South America and in North America. For information about membership, contact Damien McMenamin (damien@alliottgroup.net), Head of Global Business Development.
Related content: