GPS Accounting appointed as Alliott Global Alliance's Accounting Member in Thailand
19 October 2020
Alliott Global Alliance (previously 'Alliott Group'), one of the world's largest multidisciplinary alliances of professional services firms, has expanded its presence in the Asia Pacific region by appointing GPS Accounting as its accounting firm member in Bangkok, Thailand.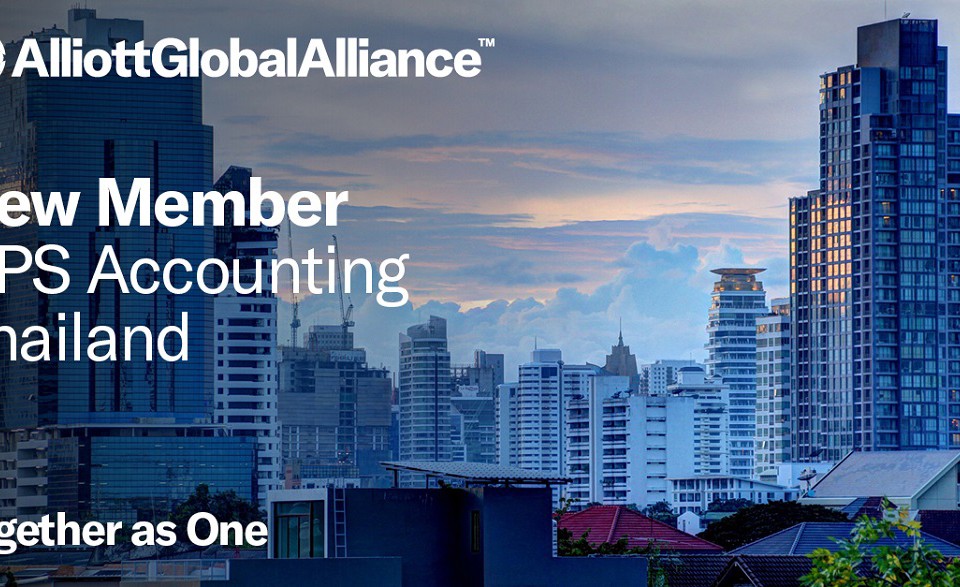 This appointment increases the alliance's presence in South East Asia and boosts coverage in the wider Asia Pacific region to 15 countries. In the last year, the alliance has entered new countries or supplemented its presence in Bangladesh, Hong Kong, China, Singapore, Malaysia and now Thailand in the last year.
A highly regarded accounting firm, GPS Accounting is an established brand with a solid footing in the community and extensive professional and business connections across Thailand and South East Asia.
Formed in 2018 after branching away from its affiliate and Alliott Global Alliance's (soon to be announced) law firm member in Bangkok, GPS Legal, GPS Accounting is experienced in providing expertise to the underserved sector of foreign middle market companies to whom the firm provides outsourcing, tax compliance, payroll and advisory service. GPS Accounting is headed up by Managing Partner Steve Harrop who along with two additional partners and support staff, offer services in the English and Thai languages.
Working mainly for clients in the technology, hospitality, manufacturing, real estate and import and export sectors, GPS Accounting is a fast-growing practice and strives to provide a high professional standard of accounting services in Thailand with a focus on serving foreign interests in the country.
Steve Harrop, Managing Partner comments:

"We are excited to join Alliott Global Alliance at a time of significant growth and momentum. This relationship will greatly expand our global reach and give us access to professionals in other jurisdictions where some of our high-profile clients seek representation. Our affiliation with a top tier global alliance will also help to strengthen and enhance our own brand and our international offering. We are well positioned to offer AGA members a service they will have confidence in if, and when they require assistance."
Alliott Global Alliance COO Giles Brake said:
"The firm joins us at an exciting time of organic growth in South East Asia and worldwide. As a fast-growing practice in Bangkok, GPS Accounting is well placed to provide Alliott Group Alliance with a recognised accounting presence in the country. Dynamic and proactive, Steve and his team have a clear international orientation and have already participated with us in a high-profile RFP submission with a major global bank. Working hand in hand with subsidiary and local law firm member GPS Legal, Steve and his team will be a great asset to the region and to our alliance."
Alliott Global Alliance is growing fast and now has member firms in the following APAC countries: China, Hong Kong, Bangladesh, Singapore, Indonesia, Malaysia, India, Australia, New Zealand, Japan, South Korea, Nepal, Pakistan, Thailand, and Taiwan.
About GPS Accounting:
GPS Accounting offers business, accounting, and tax advisory services to small and medium sized enterprises in Bangkok, Thailand.
We offer flexible terms and fee arrangements to best suit your organisation's needs. GPS Accounting knows you want to focus on your business without having to worry about finance or tax issues. We can keep things simple, providing realistic advice and guidance to help you better save your money as well as your time: Our services include Accounting, tax, payroll, and auditing.
About Alliott Global Alliance
Founded in 1979, and with 180 member firms in 80 countries Alliott Global Alliance is an award-winning alliance of independent, law, accounting, and specialist advisory firms, working across the world Together as One. Each of our members share a common goal: to learn and share knowledge, resources, and opportunities to make the world smaller and their businesses stronger.  We work with a spirit of generosity and openness — so that together, we can continue to fulfil our ambitions, gain greater experience, and drive mutual success.
Alliott Global Alliance is expanding fast, and the alliance has its sights set firmly on growing its legal and accounting membership to 100 countries. Opportunities are available to independent professional firms in specific countries in Africa, but also in Europe, China, the ASEAN region, Australasia, the Gulf Cooperation Council region, Central and South America and in North America. For information about membership in Asia, contact Damien McMenamin (damien@alliottglobal.com), Head of Global Business Development.