Emerging Talent Q&A - Sarah Luo - Chance Bridge Partners
26 July 2021
As part of our focus on the many talented professionals working at Alliott Global Alliance member firms, we recently caught up with Sarah Luo, Partner, Cross Border Investment and Financing at Beijing based law firm Chance Bridge Partners and asked her to tell us more about why she chose a career in law and what motivates her.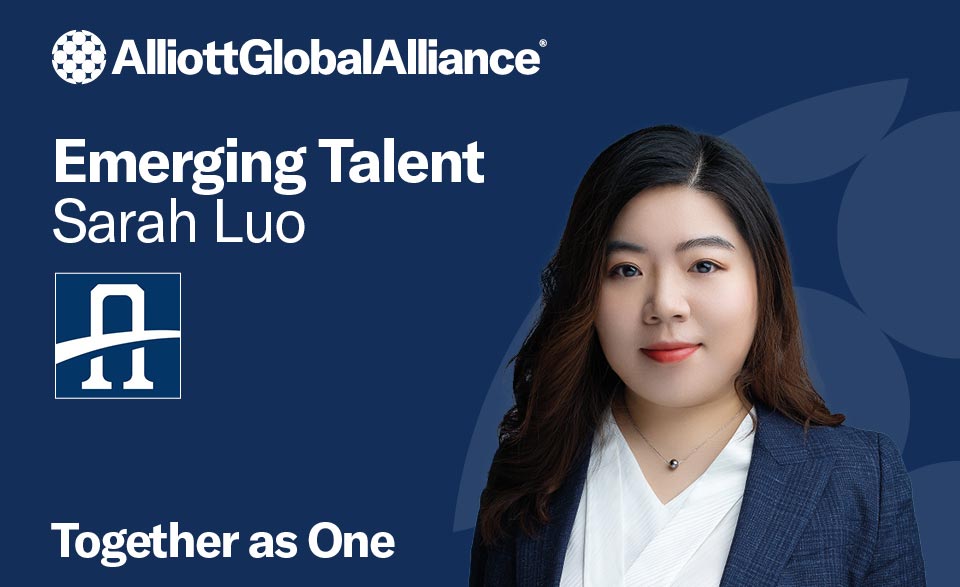 POSITION TITLE: Partner - Cross-Border Investment and Financing, Capital Markets 
WHY DID YOU CHOOSE THIS AS YOUR CAREER?
For lawyers, communicating with colleagues, clients, administrative agencies, and judicial departments is basically an indispensable part of every day. I like to deal with people and things with warmth. Moreover, the legal industry is full of novelties and challenges. Lawyers must have the ability to continue to learn from: professional forums, brainstorming, case discussions and new regulations. In such a working environment, one must keep moving forward to keep pace with everyone. Being a lawyer allows me to fulfill myself through work and communication with people.
WHAT IS THE BEST PART OF THE JOB?
Many of my peers including me had dreams of being heroines and of becoming a "light of the Chinese legal world" at a young age. I had no reason to laugh at the naivety of the past, and when engaged in the profession as a lawyer, this pursuit of heroism is reflected in "participation".
This profession might not create a heroine, but I am fortunate to participate in the growth of an excellent team and be involved in its pursuit of excellence. We may not be involved in a glorious and noble cause (for the interest of clients), but the participation itself makes us feel glorious. My work has become a part of this process. For this, I have no reason not to be proud.
IN YOUR OPINION, WHAT SETS YOUR FIRM APART?
Chance Bridge Partners is a highly professional law firm, and highly efficient. After receiving any entrusted or assignment from the customer, we guarantee to promptly contact the business owner and arrange for team members to take on the task within one hour; and we promise to give feedback within 48 hours. Some might stipulate that efficiency leads to rigidity. But for me, Chance Bridge has great ambience. I too, am friends with my fellow associates. I think a mutually supportive and respected ambience is the cornerstone to a perfectly functioning team.
WHAT DO YOU SEE AS YOUR GREATEST ACHIEVEMENT TO DATE?
Being responsible for an investment project and leading and closing the deal successfully in the second year of being a lawyer.
WHAT MOTIVATES YOU:
Sense of achievement, as aforementioned.
NAME ONE ITEM YOU CANNOT LIVE WITHOUT:
Drama, Musical Theatre, Plays, etc. Because the moment you enter a theatre, you will know a real, yet hypothetical performance is waiting for you. Drama allows me to immerse into different lives from various dimensions in a wonderful space.
ARE YOU A MEMBER OF ANY COMMERCE, CULTURAL OR COMMUNITY ORGANISATIONS?
No, but I am a golden VIP to many theatres.
About Chance Bridge Partners:
Chance Bridge Partners, founded in November 2011, is a prestigious commercial law firm of approximately 100 staff specialising in providing corporate, commercial and financial legal solutions. Chance Bridge Partners' main area of focus is on capital markets, cross-border investment, and financing, corporate, compliance, construction and real estate, intellectual property, anti-trust, financial derivatives, and dispute resolution.
Chance Bridge Partners has a professional cross-border investment and financing team, and has established a wide range of strategic cooperative relationships with a number of domestic and foreign law firms and agencies. Adhering to international and professional development patterns, Chance Bridge Partners is committed to becoming "the most recognised prestigious law firm", providing clients with comprehensive legal services. For information contact: contacts@chancebridge.com