Ecuadorian Accounting Firm Tax Financial Leaders (TFL) joins international alliance Alliott Group
09 July 2020
Alliott Group, the world's sixth largest, multidisciplinary alliance of professional services firms, has expanded its presence in Latin America by appointing Tax Financial Leaders ('TFL') as their exclusive accounting firm member in Ecuador.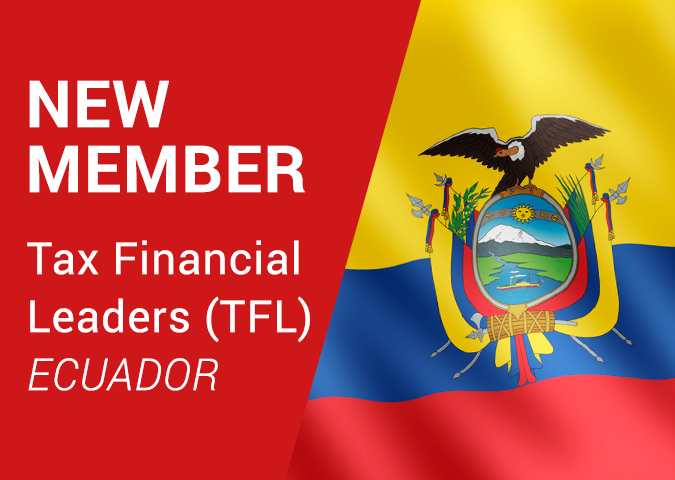 The move meets the group's need for a dynamic, reliable provider of accounting related services in Ecuador and provides another foothold for the alliance in Latin America. The alliance now has a presence in 72 countries worldwide.
Offering audit, accounting, tax and business consulting and advisory services, TFL was established in 2010 and is based in the heart of the commercial district of Guayaquil. The top 50 firm is headed up by Managing Partner Ángel Agurto Vásquez and is highly regarded for its work serving a wide range of clients including those in the commercial, services, construction, agricultural and trust sectors.
Ángel comments:

"I am extremely pleased that we have been accepted as Alliott Group's exclusive accounting member firm in Ecuador. Our strategy over the next few years is to attract more customers and expand our services nationally and internationally. Our membership of Alliott Group underpins this strategy by ensuring continuous improvement of our services, a focus on international excellence and giving added value to our corporate image."
Santiago Lussich Torrendell, partner at Estudio Lussich Torrendell & Asociados in Uruguay and Chair of the Latin America region, said:
"Alliott Group has significant momentum in Latin America at present and we are focused on building an alliance of independent business law and accounting firms that will collaborate to drive cross border business to ensure high levels of client service. Welcome to all at TFL."
Alliott Group COO Giles Brake adds:
"I am proud to welcome TFL to our international alliance and to expand our reach to yet another country. Throughout our due diligence process, TFL demonstrated high standards in every aspect and a clear need for the relationships we can provide to help them service and grow their client base in the years ahead. With the backing of our global brand, I expect to see TFL become a more recognized name in their market for domestic and foreign companies looking for a strong medium sized accounting, audit and consulting firm in Ecuador with high service standards and an international orientation."
Alliott Group's Latin American membership is growing organically at a steady rate with Estudio Nunes & Asociados Abogados (Argentina), Consulcamp Auditoria e Assessoria (Brazil), Vazquez Tercero & Zepeda (Mexico), DV Business Solutions in Costa Rica and OLGLA (in Chile) all joining in the last year.
About TFL:
TFL is an integrated professional services firm offering audit, consulting and accountant, tax, legal, financial, and labour advice. The firms' business culture is based on the values of ethics, responsibility, quality, and commitment, as well as the competencies related to service orientation and proactivity. TFL's vision is to be recognised as the most comprehensive consulting firm for excellence, for the quality of our services, and for having a strong national and international presence.
About Alliott Group:
Founded in 1979, and with 175 member firms in over 70 countries, Alliott Group is an award-winning international association ('alliance') of independent accounting, law and specialist services firms that need deeper levels of cross border resources to develop reputation, visibility, and new business. Alliott Group provides services to help its member firms to position themselves as the 'go to' firms in their local markets for businesses and private individuals with multi-market business interests.
Alliott Group is expanding fast, and the alliance has its sights set firmly on growing its legal and accounting membership to 100 countries. Opportunities are currently still available to independent professional firms in specific locations in North America, Africa, Europe, China, the ASEAN region, Australasia, the Gulf Cooperation Council region, and in Central and South America.
For information about membership, contact Damien McMenamin (damien@alliottgroup.net), Head of Global Business Development.