Continuum Legal Group joins AGA in Atlanta
09 May 2022
Atlanta law firm Continuum Legal Group LLP ('Continuum') has joined Alliott Global Alliance ('AGA') as the alliance's sole legal representative in the US state of Georgia.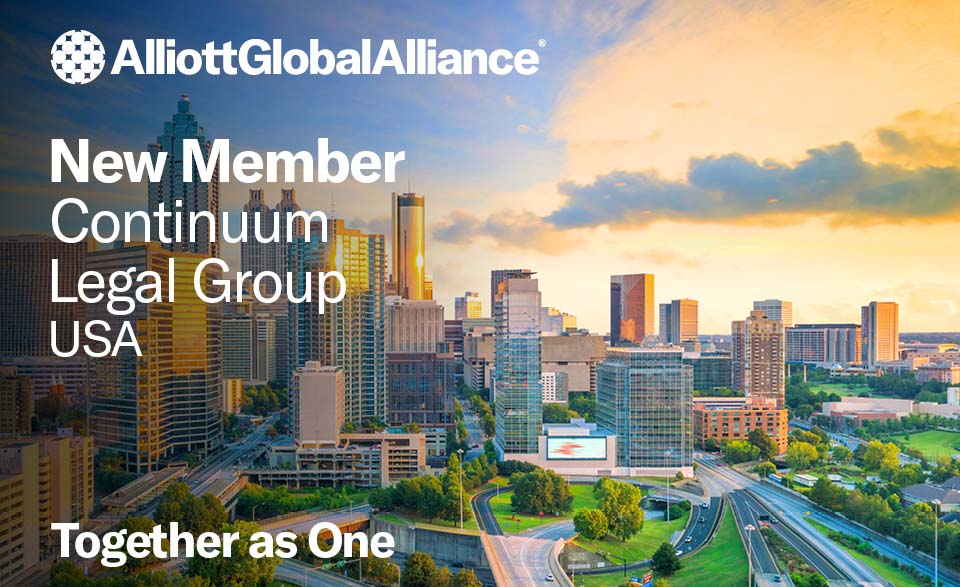 Continuum's association with AGA expands the alliance's North America legal 'network' to nine firms and increases the alliance's footprint in the South-eastern region of the United States. AGA is one of the world's largest global multidisciplinary alliances, with 210 member firms in 95 countries, including 26 law and CPA firms in the US and Canada.
Founded in 2021, Continuum's team of seasoned attorneys offers business litigation, corporate and transactional, employment, environmental, lending, and real estate services to clients across all types of industries. Highly regarded in the legal marketplace, attorneys at the firm have been recognised in recent times by Best Lawyers in America, Chambers and Partners, Georgia Super Lawyers, and Georgia Trend's Legal Elite.
Membership of AGA immediately offers Continuum access to resources across the Americas, EMEA and APAC regions, increasing their capacity and enabling the firm's professionals to deliver high levels of client service wherever in the world they are needed.
Bill Leonard, Partner and General Counsel, comments:
"Membership of this rapidly growing alliance will offer us a platform to expand our current client opportunities and to seek out synergies with members in the North America region and worldwide.

"We plan to attend regional and global events, be involved with industry specific practice groups, and participate in the many learning and practice development initiatives that are so important to collaboration, business development and relationship building. Our membership of AGA will really help raise our international profile, and we look forward to working with all our colleagues in the months ahead."
Alliott Global Alliance CEO Giles Brake adds:
"Georgia is ranked in the Top 10 US states for foreign investment by global companies, with many choosing Atlanta and the state's other key hubs as the location for their North American headquarters. With a team of highly experienced attorneys, a comprehensive range of legal services, and now the supporting infrastructure of an international alliance, Continuum is well placed to offer their clients legal and financial advice almost anywhere in the world. A warm welcome to Bill, Ilene, Marc, and everyone else at the firm."
So far in 2022, Alliott Global Alliance has added three firms to its North American membership: Rogers and Company CPAs (Washington DC Metro Area), Tuggle Duggins PA (Greensboro, North Carolina) and Continuum Legal Group LLP. Further development of the alliance is planned in 2022 for the key commercial centers across the Mid-Atlantic, South, Midwest, Southwest, and West Coast regions.
About Continuum Legal Group:
Continuum Legal Group LLP, based in Atlanta, is a full-service law firm with highly experienced and nationally recognized attorneys in all primary areas of practice: commercial litigation, corporate, employment, environmental, lending, and real estate. Continuum was founded in 2021, with each of our founding members having decades of experience in the practice of law. We knew exactly the type of firm we wanted to create – a smaller, boutique firm with a singular focus on the client. In this way, Continuum has been designed from the beginning to provide exceptional service, advice, and value directly to our clients, without the additional layers often found at larger firms. We look forward to partnering with you.
About Alliott Global Alliance:
Founded in 1979, and with 210 member firms in over 95 countries, Alliott Global Alliance is an international alliance of independent, law, accounting, and specialist advisory firms, working across the world Together as One. Each of our members share a common goal: to learn and share knowledge, resources, and opportunities to make the world smaller and their businesses stronger.
We work with a spirit of generosity and openness — so that together, we can continue to fulfil our ambitions, gain greater experience, and drive mutual success.
Alliott Global Alliance is expanding fast, and the alliance has its sights set firmly on growing its legal and accounting membership to 100 countries. Opportunities are available to independent professional firms in specific countries in Europe, but also in, China, the ASEAN region, Australasia, the Gulf Cooperation Council region, Central and South America and in North America. For information about membership in North America, contact membership@alliottglobal.com.