Bulgarian accounting firm VP Consulting joins Alliott Global Alliance
24 April 2023
Alliott Global Alliance ('AGA') has expanded its accounting firm presence in Southeast Europe by appointing Sofia headquartered VP Consulting as its accounting representative in Bulgaria.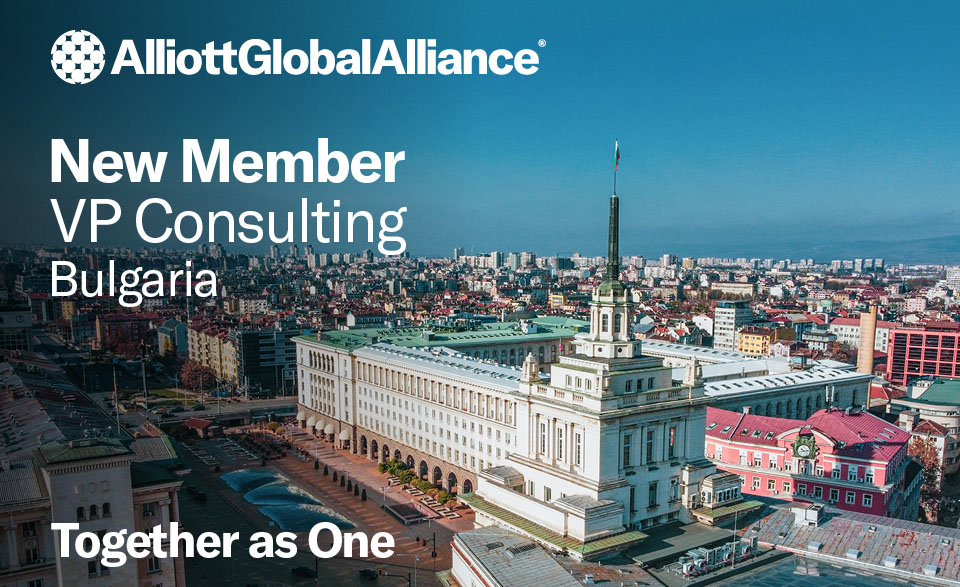 Established in 2010 by Panayot Hristov and Velislav Panchev, the firm provides a range of accounting, tax advisory, and payroll and software solution services to local and foreign clients mainly working across the tech, start-up, manufacturing, and real estate sectors.
Managing Director Panayot Hristov comments:
"We are delighted to have joined Alliott Global Alliance as its accounting representative in Bulgaria. Membership will immediately raise our international profile and offers our clients seamless access to trusted, quality support in neighbouring countries and further afield.

"This year we are looking forward to joining AGA's in-person events to start to develop those important work relationships which can lead to mutually beneficial and collaborative business opportunities."
Alliott Global Alliance's CEO, Giles Brake adds:
"We are very pleased to confirm our expansion into Bulgaria's accounting marketplace through VP Consulting. This is another important step towards AGA achieving full coverage across the CEE/SEE region. VP Consulting offers a diverse and high calibre range of professional services to companies investing in Bulgaria.

"Furthermore, they deliver service in the bespoke, personalised way that is second nature to all AGA member firms. The firm's partners attended our recent meeting for the CEE and SEE region in Bucharest and they are already investing time to develop strong personal relationships across the world that will benefit their clients and help to grow their business in the years to come."
With Top 25 law firm Sabev & Partners Law Firm ('Sabev & Partners') joining AGA last year, the alliance now offers international companies a full range of professional services in Bulgaria.
AGA has plans to expand its European coverage further this year and is currently looking to engage with dynamic, medium sized, growth-minded professional services firms in countries that include Belgium, the Baltic nations, Finland, Iceland, Luxembourg, Albania, Montenegro, Liechtenstein, Moldova, Croatia, Serbia, Slovakia, Slovenia, Switzerland, and Ukraine.
About VP Consulting:
VP Consulting, Alliott Global Alliance' accounting and tax member in Bulgaria, was founded in 2010 by Panayot Hristov and Velislav Panchev, and provides accounting, payroll, tax advisory and software solutions to both local and foreign businesses including to those in the tech, start-up, and real estate sectors.
On hand to support clients implement their day to day and future growth strategies, the efficient team is highly qualified with extensive experience in accounting and finance management, including working for local and high profile companies such as ebag.bg - the largest online FMCG retailer in Bulgaria, and betahaus.bg - the first coworking space in Bulgaria, active across four locations and expanding in the region.
About Alliott Global Alliance:
Founded in 1979, and with 215 member firms operating out of 300 offices in 95 countries Alliott Global Alliance is an international alliance of independent, law, accounting, and specialist advisory firms, working across the world Together as One.
Each of our members share a common goal: to learn and share knowledge, resources, and opportunities to make the world smaller and their businesses stronger. We work with a spirit of generosity and openness — so that together, we can continue to fulfil our ambitions, gain greater experience, and drive mutual success.
Alliott Global Alliance is expanding fast, and the alliance has its sights set firmly on growing its legal and accounting membership to 100 countries. Opportunities are available to independent professional firms in specific countries in Africa, but also in Europe, China, the ASEAN region, Australasia, the Gulf Cooperation Council region, Central and South America and in North America. For information about membership in Europe, email membership@alliottglobal.com.