AnsonBaer Nordic joins Alliott Global Alliance in Estonia
22 November 2021
Alliott Global Alliance (AGA), one of the world's largest global multidisciplinary alliances, with 200 member firms in 85 countries, has expanded its reach to Estonia. Top 10 accounting firm AnsonBaer Nordic (AnsonBaer) becomes the alliance's first ever accounting firm member in the country.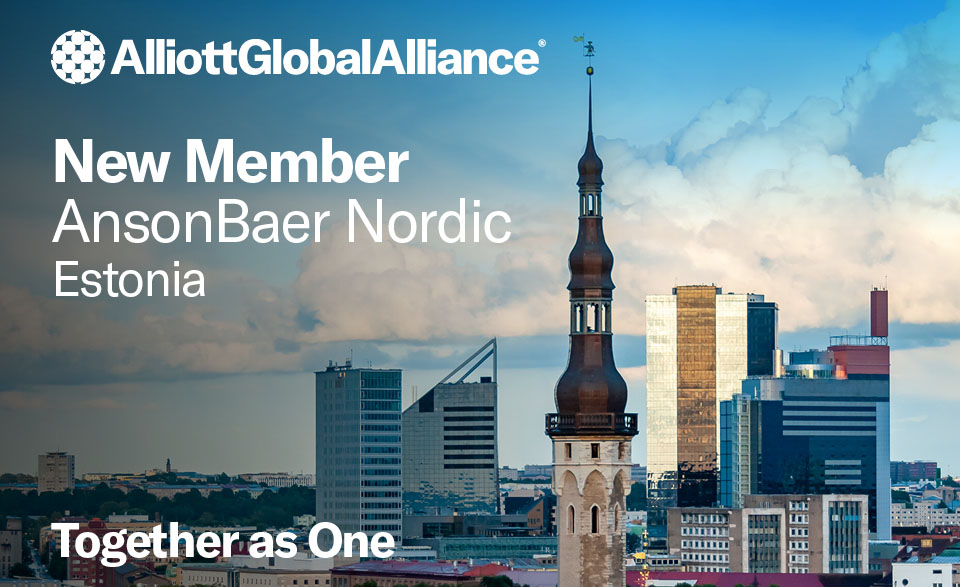 Top 10 accounting firm AnsonBaer Nordic (AnsonBaer) becomes the alliance's first ever accounting firm member in Estonia. The appointment marks the start of AGA's expansion in the Baltic region.
AnsonBaer's affiliation ensures a wide range of accounting related services are available to the clients of AGA member firms in an important location in 'Emerging Europe'. For its part, AnsonBaer remains fully independent, but immediately gains the global reach and resources required by international companies and private investors operating in and through Estonia.
Established in 2007, AnsonBaer is a Top 10 accounting firm and provides accounting, incorporation, corporate and consulting services to private investors and to organisations in the IT, advertising, trading, and telecoms industries. The team conducts business in the Russian, English, Finnish, and Estonian languages.
Partner Hendrik Hindov comments:

"Our strategy has been to look for an alliance where knowledge sharing, professionalism, and innovation are the main focal points. We are therefore excited to be admitted as AGA's first member firm in Estonia and to fly the flag for the alliance in the country.

"As well as expanding our own service offering through firms in over 85 countries, we feel that that Estonian tax environment could be attractive to many members' international clients who may want to structure their investments or profit centres. By participating in relevant global practice groups, we also look forward to discussing ideas for future collaborative working."
Alliott Global Alliance's CEO, Giles Brake adds:
"Our strategy is to build an Alliance with the true global scale and the depth and breadth of expertise needed by fast-growing international companies and private individuals, and the ambitious independent firms who serve them. It was critical to select and appoint an accounting firm member in this exciting jurisdiction with not only the right profile and skillsets, but that also has a growth mindset and international orientation. We are therefore delighted to announce our affiliation with AnsonBaer, and we extend a very warm welcome to Hendrik and his team."
The alliance has its sights set on expanding its European coverage further in 2021, particularly in Scandinavia, and in Central, Eastern and Southeast Europe.
About AnsonBaer Nordic:
Anson Baer offers financial and business consulting services. We are an independent critic and counsellor of Your Business, a solid partner in making important decisions. We support our partners through every moment, whether it is the starting of one's own business, implementing changes in an operating structure, adapting to new markets, aggressive expansion, or reduction of expenses.
Our activity is based on the principle that "Every client and their wishes are unique."
About Alliott Global Alliance:
Founded in 1979, and with 200 member firms in over 85 countries, Alliott Global Alliance is an international alliance of independent, law, accounting, and specialist advisory firms, working across the world Together as One. Each of our members share a common goal: to learn and share knowledge, resources, and opportunities to make the world smaller and their businesses stronger.
We work with a spirit of generosity and openness — so that together, we can continue to fulfil our ambitions, gain greater experience, and drive mutual success.
Alliott Global Alliance is expanding fast, and the alliance has its sights set firmly on growing its legal and accounting membership to 100 countries. Opportunities are available to independent professional firms in specific countries in Europe, but also in, China, the ASEAN region, Australasia, the Gulf Cooperation Council region, Central and South America and in North America. For information about membership in Europe, contact Damien McMenamin (damien@alliottglobal.com), Chief Growth Officer. .