Alliott Global Alliance appoints top Canadian business and technology law firm Segev LLP
16 March 2021
Alliott Global Alliance ('AGA'), the international alliance of law and accounting firms has appointed Segev LLP ('Segev'), a top 10 business and technology law firm in Vancouver, as its member in British Columbia.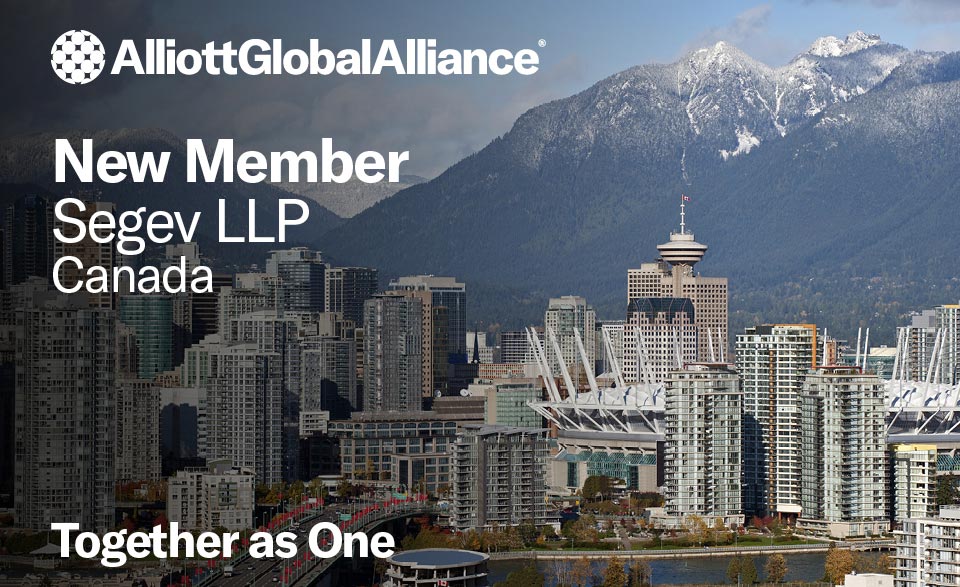 Membership expands Segev's international reach to 80 countries worldwide, scaling up their capacity to continue delivering high levels of client service right across North America and into all other world regions.  
Segev is recognised by Chambers & Partners as being one of the top esports and gaming law practices in Canada with complementary securities and technology expertise. The firm also has a particular focus on serving companies that are creative disruptors in technology and intellectual property, but also in highly regulated industries such as gambling, securities, financial technologies and cryptocurrencies, and cannabis.
Founded in 2013, Segev was the first law firm in British Colombia with a dedicated esports practice group, with lawyers at the forefront of supporting the development of Canada's esports ecosystem including the city's first esports arena and largest iGaming company.
The 25-person firm is headed up by highly experienced founders and senior lawyers and has recently expanded its service offering to include collaborative family law and mediation. Segev offers insights, analyses, access, and strategy services to some of the world's best and nimblest businesses.
Founding Partner Ron Segev comments:

"Our team always take an international view of our clients' business needs and challenges. In fact, the lawyers at Segev have enjoyed previous exposure to international networks while at different law firms, so we understand the value our affiliation will add to our client base and the firm's profile in the legal services markets in which our clients operate. It is powerful for our lawyers to be able to reach out with greater confidence to carefully vetted and trusted AGA lawyers, tax advisors, accountants and other business advisors in locations such as the UK, Scandinavia, Israel, Mexico, Brazil and China where we are actively helping our clients to unlock new growth and investment opportunities."
Alliott Global Alliance COO Giles Brake adds:
"We are delighted to expand our North American membership as we welcome Segev as the alliance's sole representative law member in British Columbia. Their firm is a progressive and technology-oriented law firm and a leader in many emerging sectors of the global business economy. With their experience and connections in these dynamic sectors, AGA members in North America and across the world will benefit from Segev's out of the box thinking and new perspectives."
Alliott Global Alliance is continuously growing and through this appointment, AGA now has law and accounting members in Toronto (Prasad & Co and Wildeboer Dellelce); Vancouver (Segev and Vohora, Chartered Professional Accountants); and in Montreal (Hardy, Normand & Associates).
About Segev LLP:
Segev LLP is a full solutions business and technology law firm located in Vancouver, Canada, with satellite offices in the USA and China. Providing insights, analyses, access, and strategy services to some of the world's best and nimblest businesses, all underpinned by out-of-the-box thinking and high-quality legal work.
Recognised as a world leader in interactive entertainment, gaming, and betting law, the firm is also a recognized leading corporate, commercial, and finance law firm for those and other bleeding edge ventures.
About Alliott Global Alliance:
Founded in 1979, and with 190 member firms in 80 countries Alliott Global Alliance is an award-winning alliance of independent, law, accounting, and specialist advisory firms, working across the world Together as One. Each of our members share a common goal: to learn and share knowledge, resources, and opportunities to make the world smaller and their businesses stronger.
We work with a spirit of generosity and openness — so that together, we can continue to fulfil our ambitions, gain greater experience, and drive mutual success.
Alliott Global Alliance is expanding fast, and the alliance has its sights set firmly on growing its legal and accounting membership to 100 countries. Opportunities are available to independent professional firms in Central, North and South America, and in specific countries across Africa, Europe, China, the ASEAN region, Australasia, and the Middle East. For information about membership contact Damien McMenamin (damien@alliottglobal.com), Head of Global Business Development.