Alliott Global Alliance admits RAALC Law Firm in the UAE
06 April 2021
Alliott Global Alliance ('AGA'), the international alliance of law and accounting firms has appointed RAALC Law Firm ('RAALC') as its first law member in the Middle East region.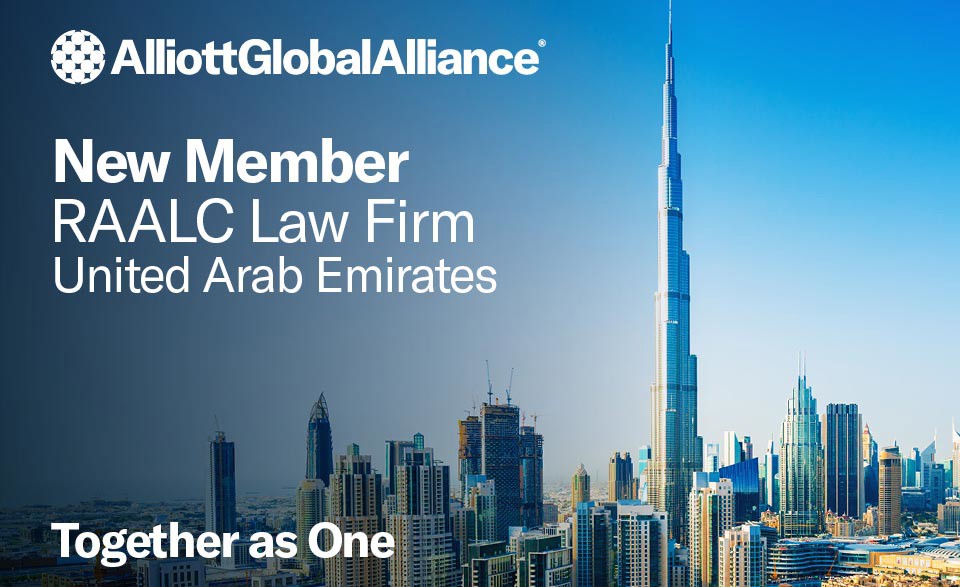 RAALC has offices in Dubai, Sharjah, and Ras Al Khaimah in the United Arab Emirates.
Founded in 2013 in Sharjah, RAALC unites three long-established law firms and has experienced rapid growth since foundation. The 35-staff firm has opened two additional branches in Ras Al Khaimah and Dubai, with the latter becoming the firm's headquarters.
Originally a litigation practice, RAALC now offers corporate and business, commercial, criminal, restructuring and banking and finance legal services. The firm's clients are active in the banking and finance, corporate, construction and real estate sectors. Priding itself on its use of AI, the firm recognises the remarkable growth in the blockchain industry and positions itself as a 'smart law firm' focused on using technology to empower greater client service efficiencies.
The firm combines local expertise with a strong international outlook and in January 2020, co-hosted the Trade Opportunities Investment Conference between Egypt & UAE with the Egyptian Commercial Service, and presented at the Japan External Trade Organisation (JETRO).
Co-Founding Partner and Head of Litigation, Ehab Essam comments:
"We have been looking for an alliance of AGA's calibre for some time, one that can help us provide a more comprehensive legal service to our clients with business interests in other jurisdictions, such as in the UK, China and the US. With access now to firms in 80 countries we have greatly improved our international reach and we look forward to forging long lasting business relationships with our new members and to sharing insights and future successes with them".

"This expansion of our services and expertise across the globe means that we are more determined than ever to continue to refine our techniques and capabilities by utilising evolving technology".
Alliott Global Alliance COO Giles Brake adds:
"RAALC's appointment represents another milestone for AGA as they become our first law member in the Middle East region. Selecting and appointing a law firm with the right skillsets, experience and who shares the same world view as us, was absolutely key in a country that is such as an important gateway for business in the Middle East and Africa. RAALC is well equipped to meet the needs of international clients requiring legal compliance and advisory services in the UAE - we are delighted to put our global resources behind their name in the UAE. A warm welcome to Ehab and all of the team."
RAALC joins Alliott Hadid Shahid Chartered Accountants in Dubai and Alliott Management Consulting UAE in Abu Dhabi as representatives of the alliance in the UAE.
About RAALC Law Firm:
RAALC - The Simple Choice for Complex Problems:
We set the highest standards and work in a timely and efficient manner to provide you with the best legal advice possible. We strive to deliver effective legal solutions tailored to the client's requirements and needs within selected practice areas.
In this digital technology era, at RAALC, we believe that we should be accessible to our clientele at a moment's notice and we are determined to provide personalized customer service built on smart technology. Starting at the commencement of each project, RAALC uses the most advanced yet proven technological tools to achieve the ultimate technology-driven client experience.
We aim to expand our services and expertise across the globe while refining our techniques and capabilities in line with evolving technological advancements.
Value driven, RAALC believes in evolving and adapting to circumstances where we always learn and grow, developing our people and operations, the aim being to deliver supreme quality services by engaging in creativity and contemplating innovative solutions.
About Alliott Global Alliance:
Founded in 1979, and with 195 member firms in 80 countries Alliott Global Alliance is an award-winning alliance of independent, law, accounting, and specialist advisory firms, working across the world Together as One. Each of our members share a common goal: to learn and share knowledge, resources, and opportunities to make the world smaller and their businesses stronger.
We work with a spirit of generosity and openness — so that together, we can continue to fulfil our ambitions, gain greater experience, and drive mutual success.
Alliott Global Alliance is expanding fast, and the alliance has its sights set firmly on growing its legal and accounting membership to 100 countries. Opportunities are available to independent professional firms in Central, North and South America, and in specific countries across Africa, Europe, China, the ASEAN region, Australasia, and the Middle East. For information about membership contact Damien McMenamin (damien@alliottglobal.com), Head of Global Business Development.