AGA expands to Poland with appointment of Wołoszański & Partners Law Firm
12 January 2021
Alliott Global Alliance (AGA), the global multidisciplinary alliance, continues to grow and has appointed Warsaw based Wołoszański & Partners Law firm, as its sole law member in Poland as of 1st January 2021.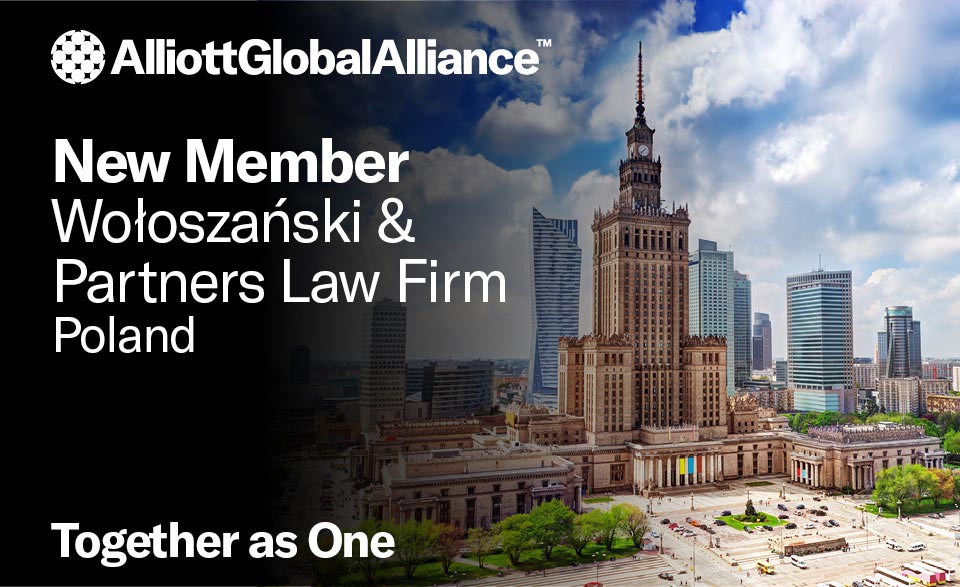 Founded in 2008 Wołoszański & Partners offers clients a comprehensive range of legal services with specific emphasis on company commercial, civil, corporate, dispute resolution, competition law, GDPR/privacy law, and criminal law.
Wołoszański & Partners has an impressive international client base that requires support across many jurisdictions. Serving key clients in the IT, automotive, fintech, aerospace, financial, cosmetic, and pharmaceutical sectors, including for the local subsidiaries of global corporations such as Hyundai and Astri (Airbus), requires the firm to be able to offer support from international partners.
Headed up by Managing Partner Mr Michał Wołoszański, the 20+ staff at Wołoszański & Partners have presided over 35,000 successful court cases and the firm is regarded as a trusted business partner who delivers great service. The staff conduct business in Polish, English, French, German, Russian and Ukrainian.
Michał comments:
"Support from Alliott Global Alliance will help us accommodate the needs of our key clients with business interests in other jurisdictions and in turn we have the capacity to meet all the needs of those members who have clients requiring legal expertise in Poland. Affiliation with a strong international brand such as AGA will support our international marketing plans as we position ourselves as an attractive option to clients with cross border needs and ambitions. We look forward to collaborating with AGA firms."
Alliott Global Alliance COO Giles Brake adds:
"Finding and appointing a progressive, internationally oriented Polish law firm was a key target in our international expansion strategy. Wołoszański & Partners is an impressive firm with a dynamic client base and a modern outlook. They will be a critical partner in Central Europe's largest economy as we target further expansion in this important region. We offer a warm welcome to Michal and all of the team at Wołoszański & Partners."
Wołoszański & Partners' appointment gives the alliance a dual presence in Poland alongside JWW Accounting who are based in Wroclaw, and ensures clients have access to a local team of experts who will offer a broad, multidisciplinary range of professional services.
Alliott Global Alliance added 36 new member firms to membership in 2020, expanding its international coverage from 66 to 78 countries across six continents. The alliance has its sights set on expanding its European coverage further in 2021, particularly in Scandinavia, Central & Eastern Europe, and the Balkan Peninsula.
About Wołoszański & Partners Law Firm:
Wołoszański & Partners Law Firm specializes in rendering legal advisory services for entrepreneurs, with a focus mainly on commercial law, civil law, and company law.
With years of experience in providing legal services to our clients we have learned about events involving legal consequences. We have also learned whether solutions stand the test of time. That is why our clients choose our services at every stage of development of their business - from companies' agreements, through to the construction of capital groups or analysing long-term, significant contracts.
Our approach is deeply tied to clients' business objectives and value creation. We provide immediate support to the client for the selected workstream, while concurrently working on creation of seamless legal collaboration.
About Alliott Global Alliance:
Founded in 1979, and with 190 member firms in 78 countries Alliott Global Alliance is an international alliance of independent, law, accounting, and specialist advisory firms, working across the world Together as One. Each of our members share a common goal: to learn and share knowledge, resources, and opportunities to make the world smaller and their businesses stronger.
We work with a spirit of generosity and openness — so that together, we can continue to fulfil our ambitions, gain greater experience, and drive mutual success.
Alliott Global Alliance is expanding fast, and the alliance has its sights set firmly on growing its legal and accounting membership to 100 countries. Opportunities are available to independent professional firms in specific countries in Europe, but also in, China, the ASEAN region, Australasia, the Gulf Cooperation Council region, Central and South America and in North America. For information about membership in Europe, contact Damien McMenamin (damien@alliottglobal.com), Head of Global Business Development.