A Newcomers Guide to Environmental Social Governance
29 June 2022
In this article, Violaine Panasci, Brand, Data Privacy and Regulatory Attorney at Rockridge Venture Law, AGA's member firm in Nashville, Tennessee, offers an overview of what ESG is and highlights the initial steps firms can take to improve sustainability for the benefit of shareholders, employees, customers and suppliers.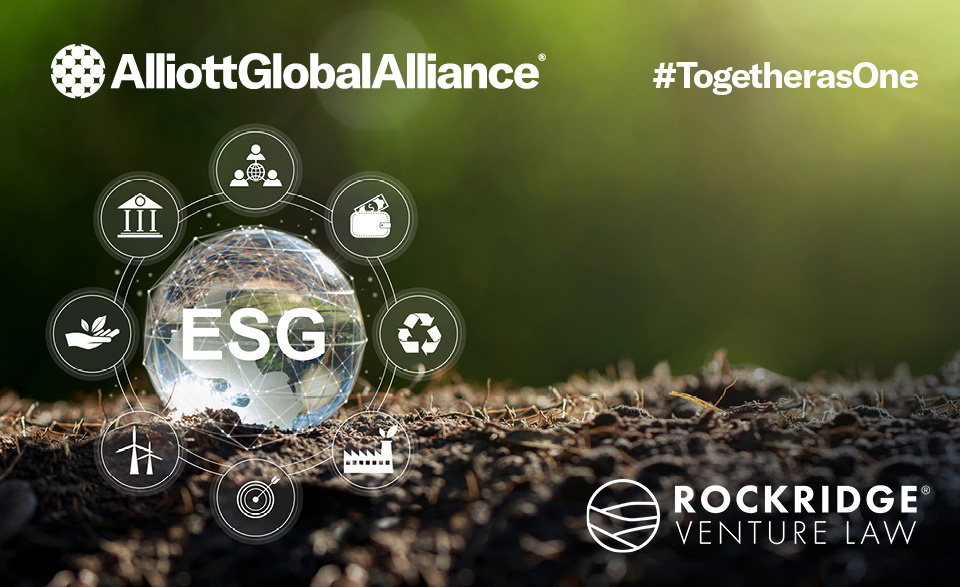 Do you know what ESG means? If you don't, it doesn't mean you have to be an expert on the matter right away. That's where this guide comes in handy! ESG refers to Environmental Social Governance – a term that may sound intimidating but has grown in popularity over the last several years. This comes as more and more investors are looking to find sustainable investments that will provide them with long-term growth rather than short-term profits.
Maybe you decided to launch your ESG journey after a call from an investor, questions from your board or CEO about proposed SEC legislation, or from a groundswell of interest from employees or other stakeholders. Whatever the reason may be, this article will help you take the first steps toward improving your organization's sustainability for the benefit of your shareholders, employees, suppliers, and customers alike.
Understand your company's relationship with ESG factors
Defining the component parts of ESG is relatively straightforward.
Environmental:
Consider any environmental risks associated with your company's operations and determine how the company manages those risks. These factors include corporate climate policies, energy use, waste, pollution, natural resource conservation, and treatment of animals. For example, if you are a food manufacturer, considerations may include greenhouse gas emissions, compliance with environmental regulations and animal welfare.
Social:
Consider the company's employees, contractors, and community. These factors include stakeholder inclusion, diversity throughout the supply chain, the compensation of employees, their data privacy and protection, and how the company impacts the surrounding community. For example, if you are a food manufacturer, considerations may include internal whistle-blower policies that protect employees who provide information relating to any violation of the food safety and fraud regulations of the US Food, Drug and Cosmetic Act.
Governance:
Consider the company's strategy for upholding legal and ethical obligations from the top-down. What is your board composition? Do you consider integrity and diversity in selecting leadership? Do you conduct regular audits? Do you embrace corporate transparency? For example, a company may amend its bylaws to require a percentage of board seats to be held by women.
What can you do about it?
Not all ESG-related issues will be relevant to your company. The first step to your ESG journey will be defining the role of ESG factors within your business. What have your investors been asking about? Will the SEC's proposed rule apply to you? What are your employees' concerns? What is going on in your community right now?
Once you've assessed which ESG issues are relevant to your business, the next step will be to integrate ESG considerations into business strategy, operations, and decision-making.
Here are some examples of steps you can take:
Capturing goals – review your company's governance documents to align with ESG goals and commit to stakeholder transparency through periodic reporting.
Leadership – bring the board and executive leadership on board with ESG goals.
External relationships – seek contractor sustainability commitments throughout the supply chain.
Internal relationships – offer employees an opportunity to share their likes and dislikes.
The final step will be to communicate your ESG efforts to the public. This can be done through a corporate narrative that outlines the company's mission and regular reporting that authenticates ESG efforts.
An ESG strategy can't be perfected overnight. This guide provides you with the tools to take one or more concrete steps to start your ESG journey. Our team can help you make sense of the ever-evolving ESG landscape and implement best practices and strategies for your business long term.
Follow this link to read more about ESG and for assistance please contact Kevin Christopher at kevin@rockridgelaw.com or Violaine Panasci at violaine@rockridgelaw.com
Further reading:
Rockridge Venture Law joins Alliott Global Alliance in Tennessee
About Rockridge Venture Law:
Building Today's Company For Tomorrow's Economy:
Our mission is to grow the impact economy by helping entrepreneurs, corporations, and investors scale businesses and technologies for good.
Ours is not the type of legal service that can be offered by a general practice firm, or by an attorney who went from undergrad to law school to a law firm with little understanding of how scaling works. At Rockridge we've assembled a core leadership team of Silicon Valley and New York tech law expats, Ph.D.'s publishing in the major journals, and innovative young minds pioneering their respective practice areas.
We've been named a Best for The World three years in a row, recognized among the top 5% of global B Corps and we offer a suite of corporate, ESG, data privacy, and intellectual property services.
Read more about our vision and the types of clients we work with: rockridgelaw.com